AAPA, IAMPE Forge New Education & Training Agreement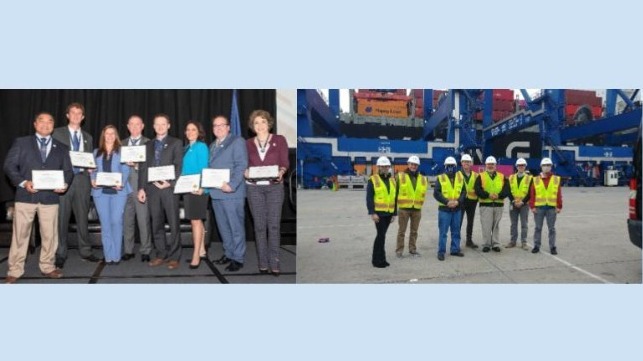 The American Association of Port Authorities (AAPA)—the unified and recognized voice of seaports in the Americas—and the International Association of Maritime Port Executives (IAMPE) – the worldwide association focused on port and maritime industry workforce training and professional development – have signed a Memorandum of Understanding (MOU) to collaborate on providing mutually-beneficial educational and career development programming for port industry professionals.
Both AAPA and IAMPE have in place professional development and training certification programs based on a well-established and highly regarded industry training framework. Each association's programs provide port and marine transportation personnel with a professional credential documenting their successful completion.
"Separately, both AAPA's and IAMPE's training programs provide concise and cost-effective certified industry recognition for progressive professional development," said Mary Beth Long, AAPA's vice president of marketing and professional/workforce development. "By accepting credits earned in either association's training programs, we believe the effect will be to greatly enhance the value of both AAPA's and IAMPE's professional development courses and expand opportunities for port and maritime professionals."
According to Ms. Long, the MOU is to provide a pathway for members of either association, and those in the process of completing either's professional development programs to have their credits count towards attainment of either association's certification. "Doing so will enhance a participant's formal education, strengthen his or her professional capabilities and increase their port and maritime industry management potential," she said.
AAPA President and CEO Christopher J. Connor, said he couldn't agree more. "This is a classic case of the whole being greater than the sum of its parts. With this agreement, participants in either association's professional development programs will benefit from the curriculum of the other, multiplying the integrity of the credential they earn, increasing their ability to compete for choice maritime industry jobs, and strengthening their entire organization's ability to deal with today's business challenges."
David Arnold, IAMPE's executive director, also expressed his enthusiasm for the new collaboration. "Our mission is to set the standard for professional development in the port industry, and we believe that this MOU will help us to continue to elevate the industry. We're thrilled to be working together with AAPA to find ways to ensure that all ports, big and small, have access to cost-effective training and professional development of the highest caliber."
Founded in 1912 and recognized as the unified voice of seaports in the Americas, AAPA today represents 130 of the leading seaport authorities in the United States, Canada, Latin America and the Caribbean and more than 200 industry solution providers, supply chain partners and academia with an interest in seaports.
The IAMPE is a not for profit industry association that provides professional development for port and terminal managers and executives. Programs are reviewed and approved for certification by the Association's Board of Advisors, comprised of over 20 industry professionals. Academic partners include the Loeb-Sullivan School at Maine Maritime Academy and Graduate Programs of the Massachusetts Maritime Academy and Texas Southern University as well as the Continuing Education Program of the State University of New York Maritime College.
The goal of both organizations is to provide for professional development pathways for the current and future generation of port professionals. According to IHS Markit's GTA Forecasting, combined international sea trade moving through Western Hemisphere seaports in 2018 totaled nearly 4.2 billion metric tons in volume and US$3.7 trillion in value. Of that combined total, seaports in Central and South America handled 1.86 billion metric tons of cargo valued at US$1.17 trillion, while North American seaports handled 2.34 billion metric tons of goods, valued at US$2.53 trillion. Within North America, U.S. seaports handled 1.01 billion metric tons of international trade valued at US$1.95 trillion, while Canada's seaports handled 380.53 million metric tons of goods valued at US$266.67 billion, and Mexico's seaports handled 352.53 million metric tons of cargo valued at US$312.91 billion.

The products and services herein described in this press release are not endorsed by The Maritime Executive.