Stena Bulk and South Korean Hyundai to Collaborate in Arctic Shipping
Stena Bulk and South Korean Hyundai Glovis, the Hyundai group's shipping arm, will begin collaborating with a cargo shipped via the North East Passage. The Stena Polaris, a P-MAX tanker with ice class 1A, will leave Ust Luga in the Gulf of Finland on 15 September with a cargo of 37,000 tons of naphtha. The voyage, which will go via the North East Passage, is expected to take 28 days with the tanker arriving in a port in South Korea in mid-October.
"We see the voyage with the Stena Polaris as the beginning of a long and far-reaching collaboration with Hyundai Glovis where we together will invest in different types of transportation of which voyages via the North East Passage are one part", says Erik Hånell, President & CEO of Stena Bulk.
Facts about the North East Passage
So far this year, a total of more that 270 ships have been given permission to sail through the North East Passage, although far from all of them will do so. However, the total volume of cargo transported via the Arctic Ocean will probably be five times larger this year compared with 2012. Last year, a total of just under 1.3 million tons was transported – a 53% increase over 2011 and, according to conservative estimates, this figure will rise to 1.5 million tons this year and to as much as 15 million tons by 2021.
As a result of the good collaboration between Stena Bulk and Concordia Maritime with Finnish Neste Oil as a customer, their tankers have sailed eight times through the North East Passage. Today, the companies together have a total of eight tankers with the right classification for a voyage through the North East Passage.
"Like many others, we feel that there could be a commercial break-through in the near future, although there are still a number of challenges to be overcome before this can take place on a large scale", says Erik Hånell.
The North East Passage connects Europe with East Asia via the Barents Sea, the Kara Sea, the Laptev Sea, the East Siberian Sea, the Bering Sea, the Sea of Okhotsk and the Sea of Japan.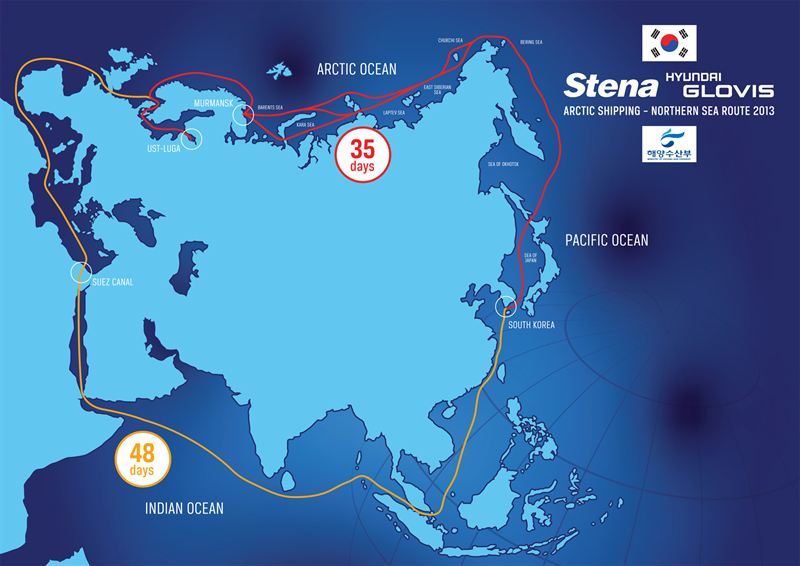 Know-how and experience
There are a limited number of tankers that are equipped to sail through the North East Passage. Operating in extreme Arctic conditions requires know-how and experience. Stena has extensive knowledge of the tough environment in the north and knows how to navigate safely through ice-covered waters. To maintain its leading position in safe transportation at sea, every year the company invests large sums in developing the necessary routines. Well-equipped vessels together with highly experienced crews is the only way to master Arctic conditions. This means that currently, only a relatively limited number of vessels are able to sail through these waters.
About the P-MAX tankers
The P-MAX tankers were designed and built by Stena and Concordia Maritime. They have a double hull, optimum corrosion control, two engine rooms with full water and fire integrity and two propulsion systems. Manoeuvrability and an integrated bridge layout are also very important when it comes to facilitating safe navigation in narrow channels.
The Stena Polaris, which is owned by Concordia Maritime and has been time-chartered by Stena Bulk for this project, has the following technical data: Length: 183 m, beam: 40 m, draft: 11.3 m, deadweight: 65,000 tons.
The products and services herein described in this press release are not endorsed by The Maritime Executive.