ISO PAS 28007 (Maritime) Pilot Completed
Port2Port Maritime completes Pilot Audit of the ISO/PAS 28007
Port2Port Maritime has successfully completed a pilot audit assessment for ISO/PAS 28007. After a rigorous and meticulously detailed, top down validation process conducted from the company headquarters to overseas operating locations and out to the point of embarkation, Port2Port Maritime has demonstrated compliance with this new management system specification.
ISO 28000 is based upon a management system for the delivery of risk management services and mirrors much of the process contained in ISO 9001. Andrew Varney, Managing Director of Port2Port Maritime said, 'It has been a very rewarding and valuable experience, enhanced greatly by working with MSS Global as our Certifying Body. It is great news for the company and the industry, but most importantly for our clients who can now be assured of a capable and competent security management system, which ensures the highest quality of service for our customers.'
The ISO Publically Available Specification (PAS) 28007, as part of the ISO 28000 Security Management System family, establishes the internationally recognised guidelines for Private Maritime Security Companies (PMSCs) providing private contracted armed security personnel (PCASP) on board ships. ISO/PAS 28007 is the only published International standard dealing with armed guards on ships. The document contains essential information for PMSCs and for the shipping companies selecting their service provider. It also outlines sector-specific requirements for applying ISO 28000:2007, Specification for security management systems for the supply chain, to PMSCs. Compliance with ISO/PAS 28007 is therefore acknowledged within certification to ISO 28000.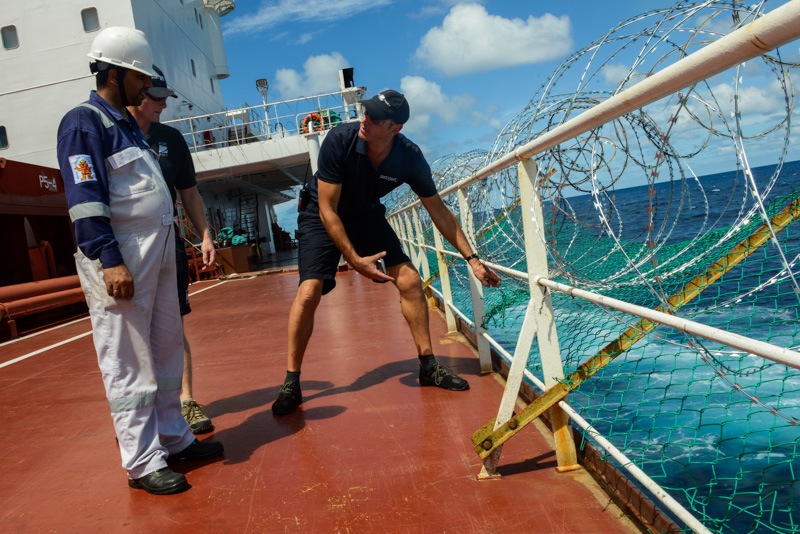 The document addresses security management system elements such as: resilience, planning, resources, training and awareness, communication and documentation. It also outlines operational requirements for dealing with issues such as: scene and casualty management, incident reporting and investigation, health and safety and customer complaints. ISO/PAS 28007 also includes recommendations for performance evaluation such as monitoring, audits, management and continual improvement. Implementation will enable security companies to demonstrably evidence their competence in the provision of PCASP for anti-piracy operations on board ships.
Roger Thompson, General Counsel and Compliance Officer for Port2Port Maritime said, 'Naturally we are all very pleased with the conclusion of the audit and await the completion of the UKAS pilot accreditation programme later this year, whereupon we anticipate the award of ISO 28000 accreditation.'
Tony Chattin, Managing Director of MSS Global Services, the Certifying Body responsible for conducting the audit said: 'Port2Port have been in the very vanguard of the UK Accreditation Service pilot for ISO/PAS 28007; the first of its kind anywhere in the world. Our assessment has been robust, impartial and thorough, with our lead auditor assessing all elements, including service delivery. It is to Port2Port's real credit that they have demonstrated conformance to the stringent demands of both ISO 28000 and ISO/PAS 28007.'
Giles Noakes, the Chief Maritime Security Officer for BIMCO has repeated that any PMSC achieving accredited certification against ISO 28000/7 benchmark would be able to apply for Associate Membership of BIMCO, confirming recognition of this major piece of industrial standardisation supported by IMO. He said, 'Now that we have sighted Port2Port's third party certification for ISO PAS 28000/28007, we look forward to seeing them as an Associate Member in the very near future, when the UKAS pilot accreditation programme is complete. We will start their application process now - as we will with any other company that achieves certification in advance of the UKAS confirmation of accreditation. We hope to see all PMSCs progressing down this route. It is clear that this will make it easier and safer for our members to select the right company.'
Peter Cook, Founder and Security Director of The Security Association for the Maritime Industry (SAMI) said, 'This marks a significant milestone in the evolution of ISO/PAS 28007-2012 as it moves toward international shipping industry acceptance. We congratulate Port2Port on their achievement.'
The products and services herein described in this press release are not endorsed by The Maritime Executive.