Exploring Blockchain at Bloconomic 2018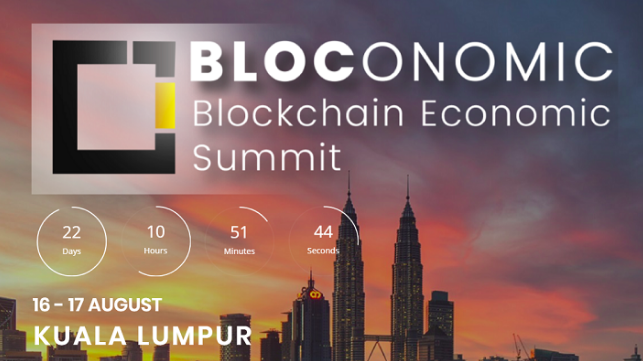 Thanks to the transparency and security inherent in its design, blockchain technology is gaining traction in multiple sectors, including the maritime industry. BLOCONOMIC 2018, an interdisciplinary blockchain conference, will be hosted in Kuala Lumpur, Malaysia on August 16 and 17. It is expected to draw thousands of attendees from over 30 countries, with representatives from sectors that range from energy, finance, government, and academia, BLOCONOMIC 2018 intends to foster multi-disciplinary collaborations.
Use-cases to be addressed will cover provenance (traceability and Q/A), supply chain management, global payment systems, Internet-of-Things (IoT), electronic record authentication and energy trading. Prominent speakers will include:
- John Ho, Head of Legal, Standard Chartered Bank
- Samson Lee, Chief Crypto-economy Advisor, Gibraltar Exchange
- Shashwat Gupta, Co-Founder of Altcoin Buzz
- Tan Sze Meng, Head of Data-Cloud, MDEC
- COO of Bit Rabbit (largest crypto exchange in Australia)
MarEx is a media sponsor for the summit, and we invite all maritime professionals in the region to attend in order to explore this revolutionary new technology. We anticipate a fascinating assortment of speakers, attendees, activities and after-parties. For those interested, please visit http://bloconomic.com/ for details, or reach out to MarEx contributor Sean McKay Holt (via LinkedIn).
The next edition of Maritime Executive Magazine will feature an editorial on blockchain's growing role in the maritime industry. To view our previous coverage of blockchain-based applications for maritime and port operators, please click here.
The opinions expressed herein are the author's and not necessarily those of The Maritime Executive.