Wreck of the Sewol Lifted to the Surface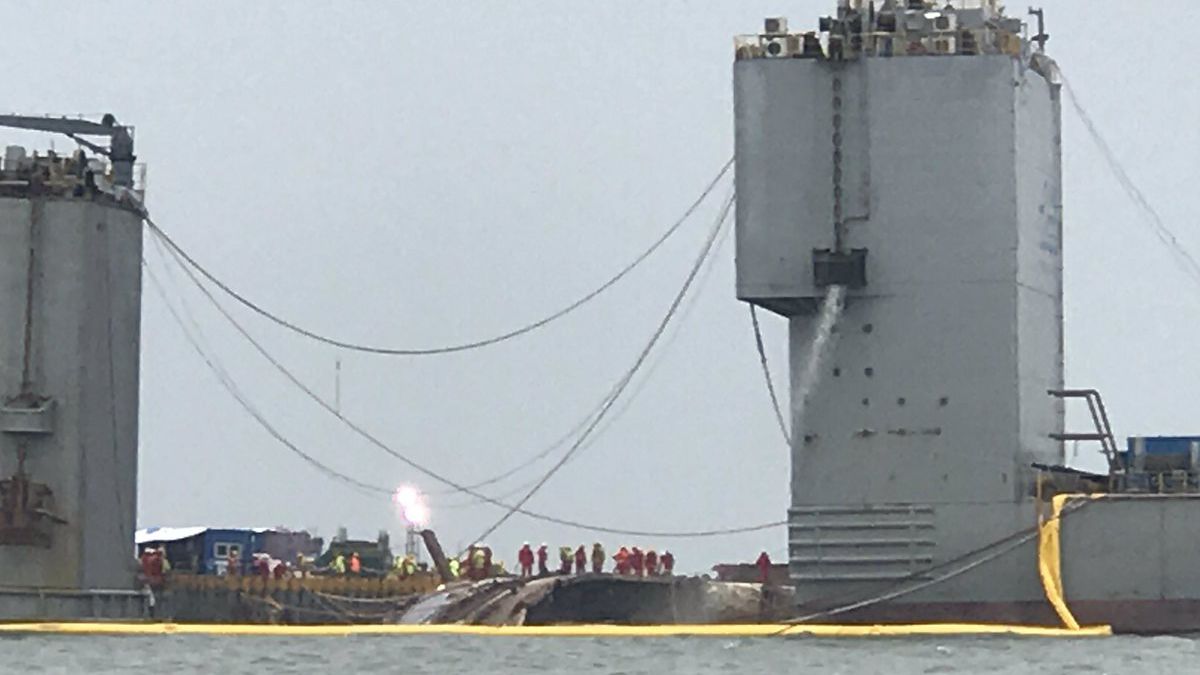 On Wednesday, crews with Shanghai Salvage successfully lifted the sunken ferry Sewol to the surface. The wreck's recovery was delayed for nine months due to technical problems and challenging conditions, but the most difficult stage in the long-running salvage effort is now complete.
The hoisting arrangement was complex. Two lifting barges were rigged to pull on 66 lifting wires, each wire connected to one side of a beam beneath the Sewol's hull. Now that the wreck is above the surface, it will be transferred onto a semi-submersible ship and carried to the port of Mokpo. Authorities plan to search the ship for the remains of nine missing persons, and the hull may be moved to shore for use as a permanent memorial.
Video courtesy KBS (in Korean)
Families of the Sewol's deceased passengers were at the scene to watch the operation. "I came here today thinking I may be able to see the ship where the soul of my son is buried," said Lim Young-jae, speaking to CNN. He said that he hopes the recovery of the vessel will shed new light on the cause of the sinking.
The loss of the Sewol was a national tragedy in South Korea: over 300 people died, most of them schoolchildren, and the vessel's captain was convicted of manslaughter and sentenced to life in prison. The Sewol is being recovered whole due to political pressure from the victims' families, who would like the government to find the last missing bodies and to complete an examination of the vessel itself.
The salvage may be the deepest lift of a complete hull ever attempted, and one naval architect involved in the project gave it an 80 percent chance of success. In addition to the depth, work conditions at the wreck site – including strong, changeable currents and low visibility – made every aspect of the project more time-consuming and difficult. The area is known for its underwater currents, and a diver died in the initial search and rescue response.