World's Largest Container Ship Named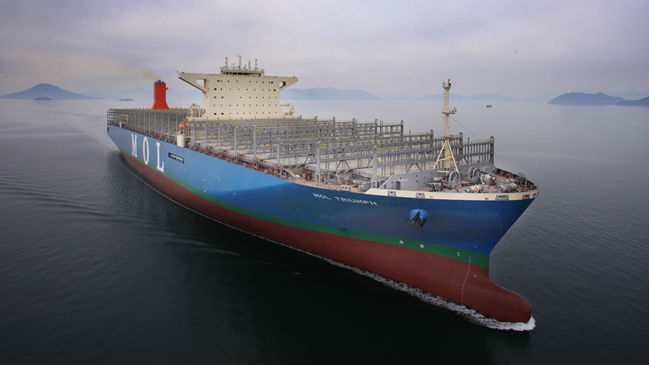 Samsung Heavy Industries held a naming ceremony for the world's largest container ship at its Geoje yard on Wednesday.
The 20,150 TEUs MOL Triumph is the first of four ultra-large container ships being built for MOL of Japan. The vessels were ordered in February 2015, and steel was cut for MOL Triumph in January 2016.
MOL Triumph has a length of 400 meters, breadth of 58.8 meters (193 feet) and depth of 32.8 meters (108 feet). The ship boasts an array of energy-saving equipment designed by Samsung Heavy Industries including propeller, rudder valve and stator.
MOL Triumph will be delivered on March 27 after preparation for her maiden voyage are complete.
Previous record holders based on TEUs are the MSC Oscar, MSC Oliver, MSC Zoe and MSC Maya at 19,244 TEUs and 395.4 meters (1,297 feet) long and built by Daewoo Shipbuilding and Marine Engineering.
Samsung Heavy Industries expects to deliver 10 container ships of around 20,000 TEU capacity this year. The shipyard received an order for six 21,100 TEU-class ultra-large container ships from OOCL (Hong Kong) shortly after the MOL order in 2015.
The yard hosts the world's largest commercial towing tank at its Daeduk R&D center.