Washington State Repair Yard to Build Offshore Wind CTVs for Damen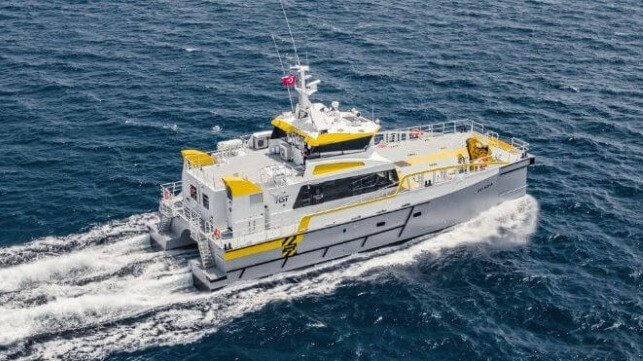 Port Angeles yacht and commercial repair yard Platypus Marine has signed an agreement with Damen to build a new series of crew transfer vessels (CTVs) for the offshore wind market. The deal adds Platypus to the growing list of players in the U.S. offshore wind shipbuilding space, along with St. Johns Shipbuilding in Florida and Blount Boats in Rhode Island.
Platypus will be building to Damen's FCS2710 design, which has a catamaran hull built with Damen's proprietary Sea Axe hull shape for seakeeping performance. With room for 24 technicians and a top speed of 25 knots, it is intended for fast transits to get a full repair crew out to and back from offshore wind sites within the span of one workday. It is a proven European design first unveiled in 2018, and it is in service with several leading CTV operators in the UK, Ireland and the Netherlands.
Platypus is building a new 17,000 square foot construction hall to accommodate the newbuild project. It will be big enough to house four CTVs at a time for serial construction, in anticipation of growing market demand. The firm plans to hire 20-25 more shipbuilders to work on the contract, and work on the first hull should begin towards the end of this year.
Though it is a substantial expansion, the CTV project will still be a relatively small portion of Platypus' overall portfolio. "Platypus will still be focused on our refit and repair sector of the marine industry taking care of current and new customers," President Chris Feffer told local media.
"Via local construction and partnering with yards such as Platypus, we have delivered over 200 vessels for the US market and over 1,500 globally," said Alan Borde, Damen Area manager USA. "With a strong, solid workforce and presence in the Pacific Northwest for 30-plus years, Platypus is in perfect position to support these projects from start to finish."