VT Halter Wins Contract for New U.S. Coast Guard Icebreaker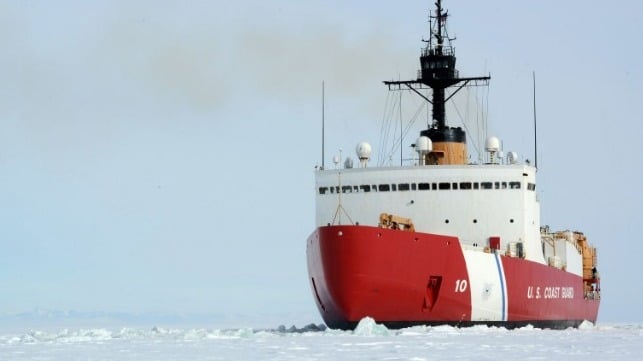 The U.S. Coast Guard and the U.S. Navy have awarded the contract for the Coast Guard's next-generation heavy icebreaker to VT Halter Marine.
The initial award is worth about $750 million, and it covers engineering, detail design, procurement of long lead-time materials and construction of the first ship in what could be a series of three. Construction will begin in 2021 and delivery is set for 2024, but the contract contains incentives for VT Halter to complete the vessel more quickly. If Congress appropriates funds for an additional two vessels and the USCG exercises all of its contract options, the award is worth up to $1.9 billion.
Last year, the Coast Guard rebranded its heavy icebreaker replacement program as the "Polar Security Cutter" program, emphasizing the vessel's national security capabilities. The long-awaited contract will give the USCG a replacement for the aging icebreaker Polar Star, which performs the annual resupply run to the Antarctic research base in McMurdo Sound.
"Against the backdrop of great power competition, the Polar Security Cutter is key to our nation's presence in the polar regions," said Admiral Karl L. Schultz, Commandant of the Coast Guard. "With the strong support of both the Trump Administration and the United States Congress, this contract award marks an important step towards building the nation's full complement of six polar icebreakers to meet the unique mission demands that have emerged from increased commerce, tourism, research, and international activities in the Arctic and Antarctic."
The acquisition is being jointly managed by the U.S. Navy and U.S. Coast Guard. Naval Sea Systems Command (NAVSEA) is the lead contracting authority.
"Working with our industry partners, the team identified approximately $300 million in cost avoidances and accelerated the schedule for delivery of this capability to the nation by almost three years," said James Geurts, the Assistant Secretary of the Navy for Research, Development and Acquisition. "This reflects the urgency in which we are operating to ensure we deliver capabilities necessary to support the U.S. Coast Guard and the nation's missions in the polar regions."