Video: Ro/Ro Crew Extinguishes Truck Fire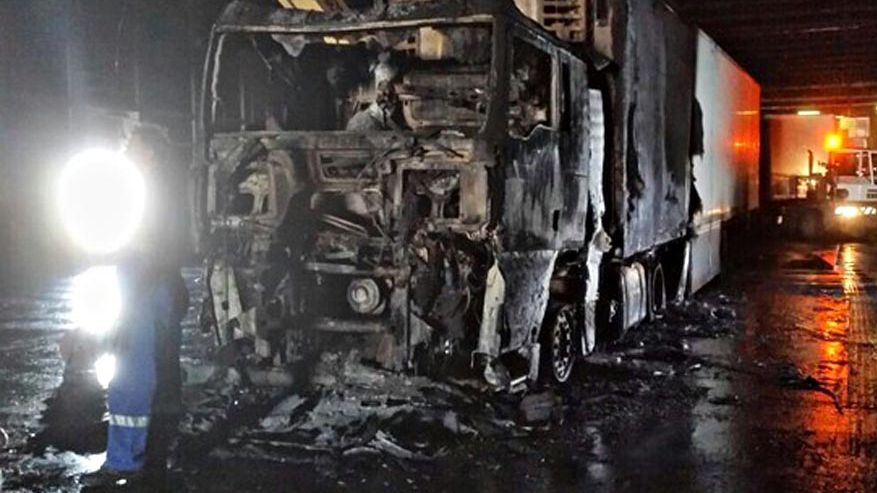 At 0200 hours on Sunday, a refrigerated truck caught fire on the Italian ro/pax cargo ferry Guissepe Sa about 25 nm off the coast of Olbia, a seaport on the northeastern coast of Sardinia.
The maritime authorities in Olbia dispatched a harbor tug and a patrol boat, and two additional ferries operated by the same firm diverted to assist. Outside intervention turned out to be unnecessary, as the crew closed the cargo deck's fire dampers and successfully used the ship's CO2 fixed firefighting system to extinguish the flames. The ferry continued under her own power to Olbia, arriving at 0600 hours, and all 88 passengers and 25 crew were safely evacuated at the ferry terminal. No injuries were reported and the ferry's operator said that the rest of the vehicles on board were undamaged, as confirmed in video provided by first responders in Olbia.
Initial reports suggest that an electrical fault in the truck was responsible for the fire, and the captain of the port has initiated an investigation. The Giuseppe Sa will be temporarily replaced on the Olbia-Piombino route by another vessel, and she will be surveyed for damage before she returns to her regular run. Operator Moby Lines said that it will bring in a contractor to replenish her CO2 system before she departs.
Firefighters prepare to go aboard

Shore crews removing the truck's wreckage. (Note: this video was uploaded to YouTube at 90 degrees from horizontal by its original author.)