Video: Mexican Cargo Ship Evacuated as it Lists Away from Dock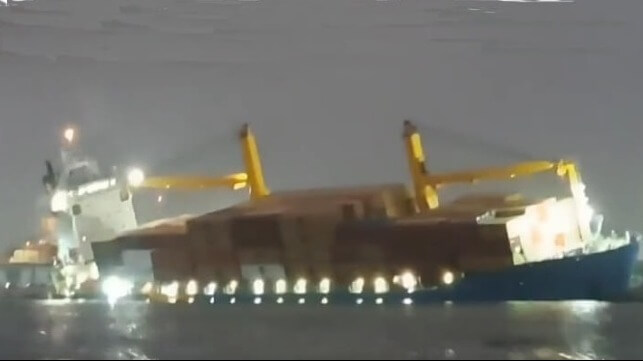 A Mexican registered cargo ship began listing last night while alongside the dock in Mazatlán. As a precaution, the vessel was evacuated while the authorities were working overnight to stabilize it.
The cargo ship, the Chiapas Star, is operated by Baja Ferries and the company is officially saying that the cause of the incident is under investigation at this time. Media reports however are suggesting that it was a ballasting mistake by the crew that was preparing for departure and flooded the tanks causing the list. Initially, there was a concern that the vessel had been improperly loaded.
It is a 26-year-old general cargo ship that has had a checkered career passing through multiple owners before being acquired by Baja Ferries and registered in Mexico in 2021. Currently, it appears to be running mostly a feeder service to move general cargo as well as containers in the Sea of Cortez region. The vessel is 502 feet in length and 20,400 dwt. It is carrying up to 1,300 TEU and has two general cargo cranes.
#ESCORADO | Tras una mala maniobra en la sala de máquinas que llenó los tanques de agua del estribor, el buque carguero Chiapas Star se encuentra ladeado y en peligro de hundirse en el canal de navegación de Mazatlán. El buque comenzó a ladearse cuando terminaron de cargarlo pic.twitter.com/8WXX2GcXVu

— Noroeste (@noroestemx) September 12, 2023
En #Mazatlán se hundió la embarcación Chiapas Star de la empresa naviera Baja Ferries. Comenzó a ladrarse la carga y hacer agua en su interior, esto durante la noche de este lunes. pic.twitter.com/LNYjTqsddH

— La Respuesta Chiapas (@LaRespuestaChis) September 12, 2023
The ship arrived from Lazaro Cardenas on September 10 and was loading cargo last night, September 11, when reports were around 8:00 p.m. it began to list away from the dock. The shipping line says security protocols were activated and for the safeguard of the ship's crew and port staff, the decision was made to evacuate the ship. No injuries were reported but there was a concern that the ship could lose cargo into the harbor or lose stability if the list continued to increase.
The Mexican Navy and ASIPONA Mazatlán, the government agency that operates the port, are involved in the recovery operation. Some reports said they were planning on placing tugs alongside to maintain stability while efforts were made to rebalance the vessel and bring it back to an even keel.
Baja Ferries operates a total of five ships carrying cargo and passengers between Baja California Sur, Lazaro Cardenas, and the key Mexican ports in the region including Mazatlán, Manzanillo, Topolobampo, and Colima.