Video: 150-Foot Superyacht Burns and Sinks off Sardinia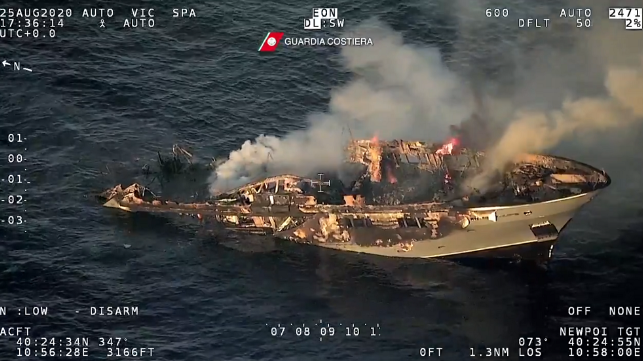 On Tuesday morning, the 150-foot superyacht Lady MM caught fire and burned about 50 miles off Capo Comino, Sardinia.
At about 0600 hours Tuesday, the Guardia Costiera station in Olbia, Sardinia picked up a distress call from the Lady MM reporting a fire. The agency dispatched a helicopter and two patrol boats to assist.
The vessel had nine crewmembers and eight Kazakh nationals aboard as passengers, and they abandoned ship using the yacht's tender several hours after the call. Coast guard units located them and brought them safely to shore.
#GuardiaCostiera di #Olbia coordina soccorsi a 17 persone che si trovavano su unità con incendio a bordo, poi affondata.
Alle operazioni hanno preso parte due motovedette e un elicottero Guardia Costiera. Naufraghi, intercettati e scortati in porto.#SAR #SicurezzaNavigazione pic.twitter.com/UASll7DQQs

— Guardia Costiera (@guardiacostiera) August 26, 2020
Video released by the Guardia Costiera shows that the vessel's superstructure was completely destroyed by the fire. She began taking on water and sank by the stern at about 1736 hours UTC, according to the footage.
The cause of the fire is under investigation.
Lady MM (ex name April Fool) was a 48-meter ISA 470 series yacht built in 2003. The steel-hulled, aluminum-superstructure vessel could carry up to 18,000 gallons of fuel.