USS Zumwalt Commissioned in Baltimore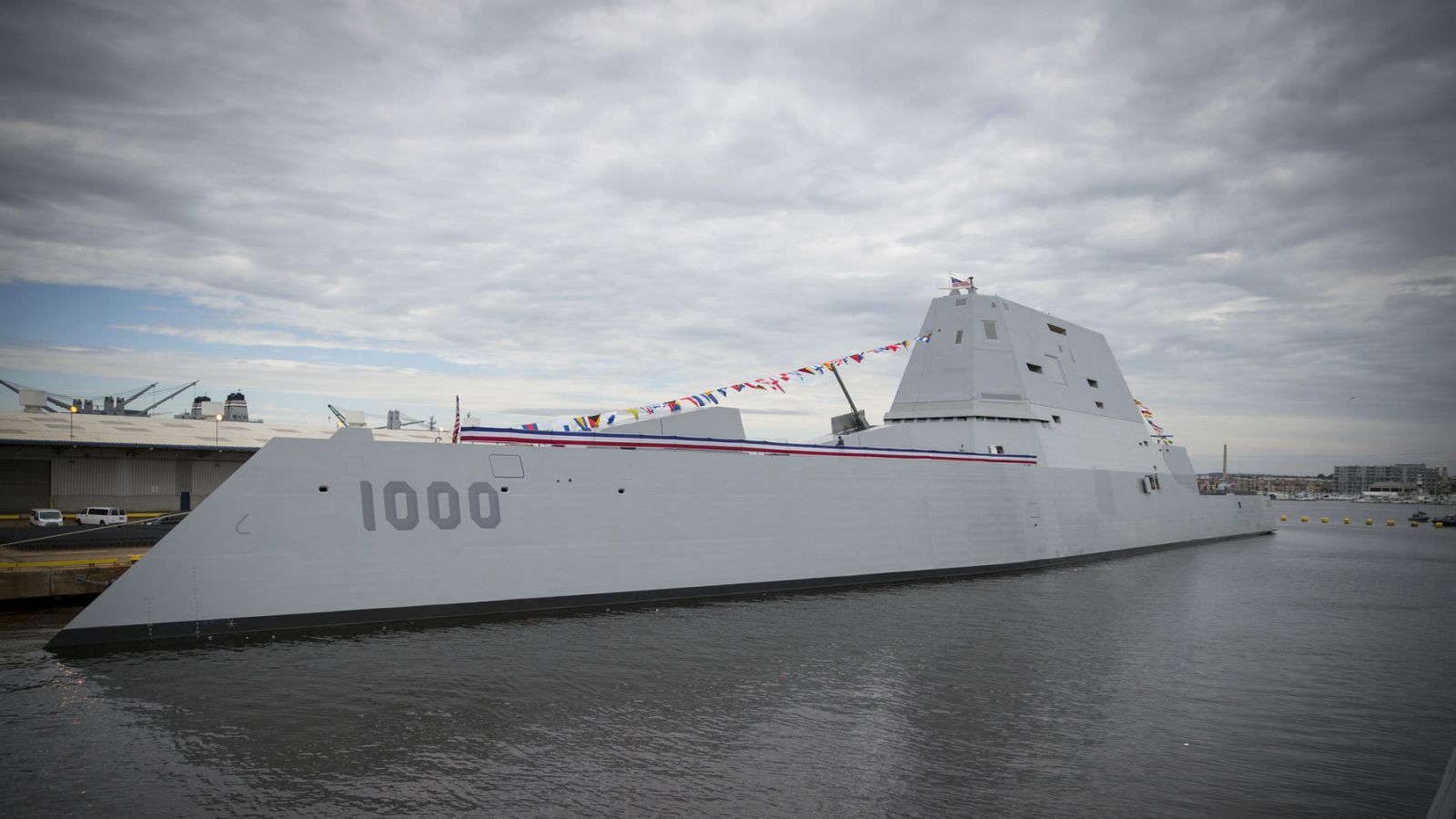 The U.S. Navy's newest and most technologically advanced warship, USS Zumwalt (DDG 1000) was commissioned into active service on Saturday, October 15, at North Locust Point in Baltimore.
Zumwalt, the lead ship of a class of next-generation multi-mission destroyers, features a state-of-the-art electric propulsion system, wave-piercing tumblehome hull, stealth design and the latest warfighting technology and weaponry available.
The ship will be crewed by 147 officers and enlisted personnel and a 28-person aviation detachment. The 15,995-metric ton Zumwalt was built at Bath Iron Works in Bath, Maine. The ship is 610 feet in length and has an overall beam of 80.7 feet and a navigational draft of 27.6 feet. Two main turbine generators and two auxiliary turbine generators and two 33.6 megawatt advanced induction motors power the ship to sustained speeds of 30 knots.
Working with Arleigh Burke-class destroyers, littoral combat ships and amphibious ships to form adaptive force packages, the Zumwalt will use its computing capabilities to make these groups more lethal through increased range, deception, computer integration and data analysis from various platforms.
The Zumwalt-class is much larger than today's destroyers with a considerably larger flight deck - enough space to operate host Joint Strike Fighters, MV-22 Ospreys, unmanned systems and a Vertical Launch System.
In addition to its size, the Zumwalt class will be the first Navy warships to utilize an integrated power system that will produce enough power to run current systems, as well as the power required for future weapons, computing and sensor systems. Zumwalt generates approximately 78 megawatts of power, almost as much as a nuclear-powered aircraft carrier. This means the ship can operate all of its systems and still generate enough electricity to power a small town.
Zumwalt embodies the legacy of warfighting excellence and innovation of Admiral Elmo R. Zumwalt, Jr., a veteran of World War II and the conflicts in Korea and Vietnam. He exemplified honor, courage and commitment during 32 years of dedicated naval service. Believing it was his job to "modernize and humanize" the Navy, Zumwalt chose to embrace change and to lead it from within.
"I witnessed as he [Zumwalt] transformed our Navy, one Z-gram at a time... removing demeaning and abrasive regulations and moving to eliminate the scourge of racism and sexism from within our Navy," said Secretary of the Navy, Ray Mabus. "Among many initiatives, he opened flight training to women and increased recruiting of under-represented Americans. And, as has always been the case when we open opportunities in our Navy and Marine Corps, we got stronger."
As the nineteenth Chief of Naval Operations, Zumwalt embrace of innovation resulted in a number of successful new programs, including the Oliver Hazard Perry-class frigate, the Ohio-class ballistic missile submarine and the F-14 Tomcat, all of which had lasting impacts on the warfighting readiness of the Navy.
Zumwalt is scheduled to begin her transit to San Diego, making several port visits along the way. Upon arrival in San Diego, installation of combat systems will begin.