USS Hopper Passes Near Scarborough Shoal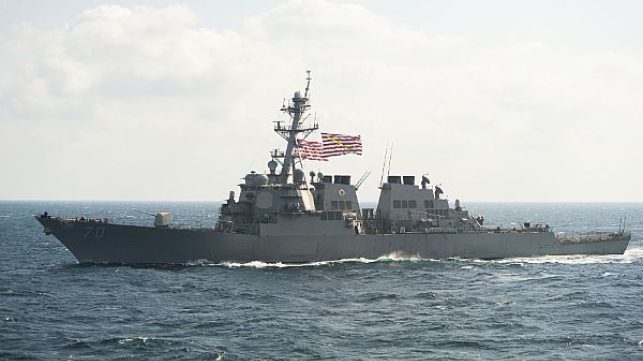 The U.S. Navy guided missile destroyer USS Hopper sailed within 12 miles of Scarborough Shoal in the South China Sea, with China's Foreign Ministry accusing the United States of trespassing in its territorial waters.
The USS Hopper carried out an "innocent passage" not a freedom of navigation operation (FONOP) within 12 miles of Scarborough Shoal on Wednesday evening, said a U.S. official who also said the "message" is the same as with a FONOP. The guided missile destroyer was shadowed by a Chinese Navy ship, and the Chinese missile destroyer Huangshan immediately conducted an identification and warning process to drive the U.S. ship away.
Scarborough Shoal is claimed by China and the Philippines, but since 2012, China has turned Philippine fishing vessels away from the area. In 2016, an international court at The Hague ruled against China's claim to Scarborough Shoal in a case filed by the Philippines.
China's Foreign Ministry said in a statement that the USS Hopper had sailed within its 12 mile territorial limit "without gaining permission from the Chinese government." Chinese media outlet Xinhua stated on Saturday that the China's Ministry of National Defense has told the U.S. not to "cause trouble out of nothing," and to respect the sovereignty of China. Wu Qian, spokesperson for the ministry, said that with joint efforts by China and the Association of Southeast Asian Nations (ASEAN), the situation around the South China Sea is becoming more stable and positive.
China says it will continue to fulfill its defensive duties, intensify its patrols in the air and at sea, in order to firmly safeguard the sovereignty and security of the country, as well as the regional peace and stability.
The U.S. Navy has previously conducted FONOPs in the South China Sea through other disputed island chains claimed by China, including the Spratleys and the Paracels. "The United States conducts routine and regular FONOPs, as we have done in the past and will continue to do so in the future," said Lt. Commander Nicole Schwegman, a spokeswoman for the U.S. Navy's Pacific Fleet.