USS Fitzgerald Officer of the Deck Pleads Guilty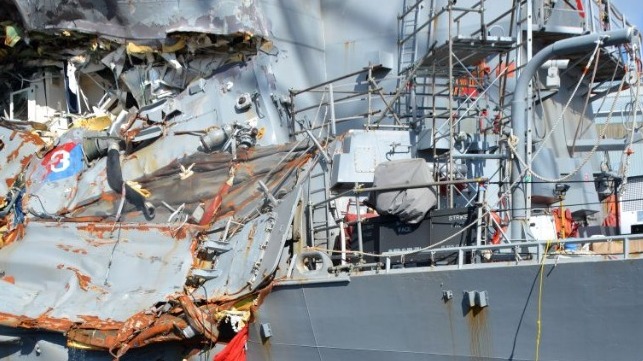 Lieutenant junior grade Sarah Coppock, the officer of the deck at the time of the USS Fitzgerald's collision with the ACX Crystal last June, has pled guilty to charges of dereliction of duty.
In a court-martial hearing at the Washington Navy Yard, Lt. j.g. Coppock was sentenced to a letter of reprimand and the forfeiture of half her pay for three months. "Not a day goes by where I haven't thought about what I could have done differently," she said in an emotional statement. "There is nothing I can do now but take responsibility."
According to a Navy charge sheet, Coppock failed to communicate with the Fitzgerald's Command Information Center (CIC); to report contacts to the commanding officer; to operate safely in an area of heavy vessel traffic; and to alert the destroyer's crew of an impending collision. The presiding judge also faulted her for losing situational awareness and failing to sound whistle signals or contact the ACX Crystal.
In a detail not previously reported, Coppock said that the Fitzgerald's primary navigation radar had developed problems an hour before the collision. The Navy's post-accident investigation found that Fitzgerald supervisors "accepted difficulties in operating radar equipment due to material faults as routine rather than pursuing solutions to fix them," and faulted Coppock's watch team for not properly tuning and operating their radars.
Radar operation played a key role in the moments leading up to the accident. 20 minutes before the collision, the Fitzgerald's bridge team tried and failed to establish a radar track of ACX Crystal. Seven minutes later, Coppock plotted a radar track for the Crystal's approach and calculated that the container ship would pass safely at 1500 yards. She did not take evasive action until five minutes before the accident.
The prosecution confirmed that Coppock had cooperated with the investigation and had not attempted to avoid accountability, and the judge commended her for her forthrightness.
The Fitzgerald's commanding officer, Cmdr. Bryce Benson, may face serious charges of hazarding a vessel, dereliction of duty and negligent homicide. Cmdr. Benson's superiors at Destroyer Squadron 15, Task Force 70, 7th Fleet, Pacific Fleet and Naval Surface Forces have departed their posts or announced their retirement, but none have been charged. Former 7th Fleet Commander Vice Adm. Joseph Aucoin and the Government Accountability Office contend that several factors underlying the deadly USS Fitzgerald and USS John S. McCain collisions last year - training deficits, low manning levels and a high operational tempo - were well known to the Navy in advance of the accident voyages.