[Updated] USS Fitzgerald: Bodies Identified
The bodies of the seven sailors who were missing after the collision between USS Fitzgerald (DDG 62) and a merchant ship have been found.
The deceased are:
- Gunner's Mate Seaman Dakota Kyle Rigsby, 19, from Palmyra, Virginia
- Yeoman 3rd Class Shingo Alexander Douglass, 25, from San Diego, California
- Sonar Technician 3rd Class Ngoc T Truong Huynh, 25, from Oakville, Connecticut
- Gunner's Mate 2nd Class Noe Hernandez, 26, from Weslaco, Texas
- Fire Controlman 2nd Class Carlosvictor Ganzon Sibayan, 23, from Chula Vista, California
- Personnel Specialist 1st Class Xavier Alec Martin, 24, from Halethorpe, Maryland
- Fire Controlman 1st Class Gary Leo Rehm Jr., 37, from Elyria, Ohio.
Search and rescue crews gained access to the spaces that were damaged during the collision on early Sunday morning; the missing sailors were located in the flooded berthing compartments.
USS Fitzgerald collided with the Philippine-flagged, NYK-chartered container ship ACX Crystal at approximately 2:30 a.m. local time, June 17, while operating about 56 nautical miles southwest of Yokosuka, Japan.
Cmdr. Bryce Benson, the destroyer's commanding officer, was transferred to U.S. Naval Hospital Yokosuka by a Japanese Maritime Self-Defense Force (JMSDF) helicopter. Two other sailors were medevac'd to hospital. They are awake and remain under observation. Two additional personnel were medevac'd from Fitzgerald to USNH-Yokosuka by Helicopter Sea Combat Squadron 12 (HSC-12) for lacerations and bruises. Other injured are being assessed aboard the ship.
U.S. 7th Fleet Commander Vice Adm. Joseph Aucoin held a press conference on Sunday saying the damage included a significant impact under the ship's pilothouse on the starboard side and a large puncture below the ship's waterline, opening the hull to the sea.
The ship suffered severe damage rapidly flooding three large compartments that included one machinery room and two berthing areas for 116 crew. The commanding officer's cabin was also directly hit, trapping him inside.
"Heroic efforts prevented the flooding from catastrophically spreading which could have caused the ship to founder or sink. It could have been much worse," said Aucoin. "The crew navigated the ship into one of the busiest ports in the world with a magnetic compass and backup navigation equipment. One of two shafts were locked."
The navy is initiating a JAGMAN investigation into the collision, and Aucoin will appoint a flag officer to lead that investigation. There will also be a safety investigation. The U.S. Coast Guard is to take the lead on the marine casualty investigation.
"I will not speculate on how long these investigations will last," says Aucoin.
Immediately after the collision, the Japan Maritime Self Defense Force ships JS Ohnami, JS Hamagiri, and JS Enshu joined the Japanese Coast Guard ships Izanami and Kano and USS Dewey (DDG 105) in the search for survivors. A U.S. P-8 Poseidon aircraft worked in concert with two JMSDF helicopters, and a JMSDF P-3 Orion aircraft also helped to search the area.
USS Fitzgerald, aided by tug boats, returned to Yokosuka at 6:15 p.m. on Saturday. Once the ship arrived in Yokosuka, divers began inspecting the damage and developing a plan for repairs.
NYK has issued a statement saying: "Our deep thoughts and concerns go out to all injured and missing on the USS Fitzgerald. NYK and the shipowner are fully cooperating with an investigation being conducted by the Japan Coast Guard."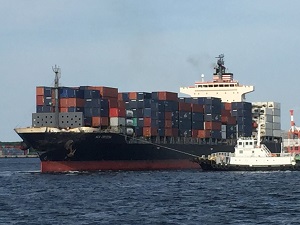 Principal Particulars for ACX Crystal
Gross Tonnage (G/T): 29,093 tons
Length Overall: 222.60 meters
Flag: Republic of the Philippines
Built: 2008
Captain: Ronald Advincula
Crew: 20 seafarers (All Filipino)
Ship Charterer: NYK Line
Shipowner: DAINICHI-INVEST CORPORATION