USCG Board Questions TOTE Executives on El Faro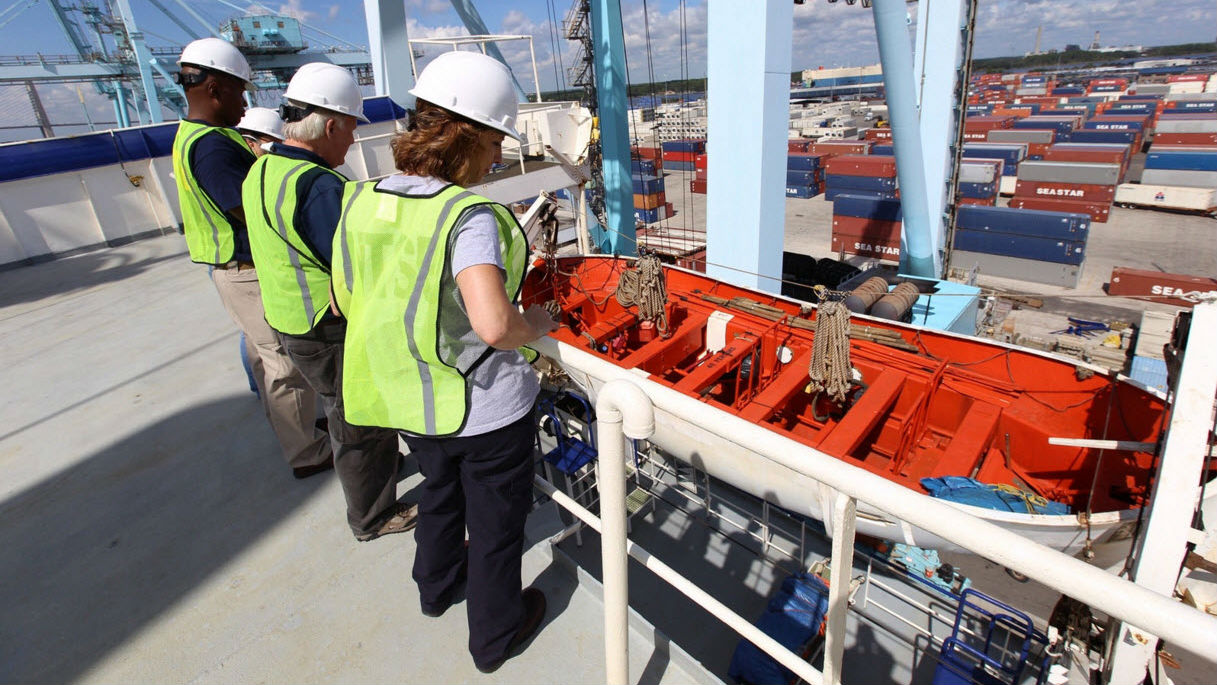 On Wednesday, the U.S. Coast Guard Marine Board of Investigation for the loss of the El Faro continued its inquiry with questions for her operator's management team on the firm's safety, weather routing and personnel policies.
The first testimony of the day came from Rear Admiral Philip Greene, Jr. (retired), president and CEO of TOTE Services. Admiral Greene was asked about the firm's safety policies with regards to heavy weather, and as in earlier witness testimony, he stressed that the master of the vessel had the ultimate say in decisions regarding the safe navigation of the ship.
Admiral Greene said that the company trusts its officers to make such decisions, and that "we have the most competent mariners . . . in the U.S. merchant marine," he said. "They are the experts in the safe operation of that vessel, which includes the voyage planning elements." He expressed the highest confidence in the El Faro's master, Captain Michael Davidson, and described him as fully qualified.
Admiral Greene emphasized that TOTE Services does not possess vessel assets, and that the El Faro was owned by TOTE Maritime Puerto Rico, a separate entity he described as a third-party client. NTSB lead investigator Tom Roth-Roffy told Admiral Greene that the panel was confused by the multiple subsidiaries of the Saltchuk-owned TOTE group of companies, which include TOTE Inc., TOTE Services Inc., TOTE Maritime Puerto Rico, TOTE Maritime Alaska and TOTE Shipholdings.
Additionally, Admiral Greene said that detailed questions of the management of individual vessels are handled by his staff, and that he would not typically have a hand in such matters.
"It seems to me like Admiral Greene is trying to distance himself and his company from TOTE Puerto Rico, while at the same time saying that they share the same office," maritime attorney Rod Sullivan told local media. Mr. Sullivan represents one of the remaining families with open lawsuits filed against TOTE over the deaths of the El Faro's crew.
Full video coverage is available at http://livestream.com/ElFaro/events/4836367
Admiral Greene was followed by Lee Peterson, director of marine services and safety for TOTE Services. Mr. Peterson said that the firm's safety effort included its safety management system manuals for the vessels, "ops memos" updating those manuals, regular on-board drills and quarterly safety meetings.
Mr. Peterson told the panel that he had been involved with the firm's LNG vessel project for approximately 50 percent of his time during the month preceding the loss of the El Faro, and that he had not seen any risk assessments for heavy weather for the vessel. Board investigators questioned him as to why there was recorded email correspondence regarding preparatory measures for Hurricane Danny and Tropical Storm Erika, but not for Hurricane Joaquin. Mr. Peterson responded that the correspondence for Hurricane Danny represented a general reminder to crew about hurricane season, an encouragement to take appropriate precautions.
Additionally, in response to specific questioning, he said that prior to the loss of the El Faro, he was not following the progress of Hurricane Joaquin, nor did he know whether others in his office were monitoring it.
"I aware of Joaquin, but I was not actively tracking it," he said. He added that he did not know why Captain Davidson had not followed the weather routing used during Tropical Storm Erika.
Board chairman Captain Jason Neubauer asked him whether there had been cargo damage due to heavy weather on the Puerto Rico run in the past, and Mr. Peterson said that there had been, although he could not recall the specifics. In response to follow-up questioning he said that deck fittings for securing cargo, such as d-rings, had been damaged and had had to be replaced in prior incidents.
Echoing prior witnesses, Mr. Peterson praised Captain Davidson, describing him as "meticulous."
The panel next called Michael Kondracki, the firm's director of ship management and former director of labor relations and risk management.
Mr. Kondracki was asked about personnel issues on the El Faro, including an incident prior to her loss in which a crewmember returned intoxicated after time ashore and was not allowed to board. He was also questioned regarding the captain's candidacy for a role as master for the firm's new Marlin-class vessels, and why Captain Davidson had not been selected.
Mr. Kondracki became emotional during questioning regarding his final interactions with Captain Davidson. He said that he had corresponded with the captain by email the day before the El Faro's loss to ask whether he would like time off. Captain Davidson declined, as he did not wish to change his schedule; he wanted to be home for his twenty-fifth wedding anniversary.