U.S. Shipbuilding Industry Tops 110,000 Jobs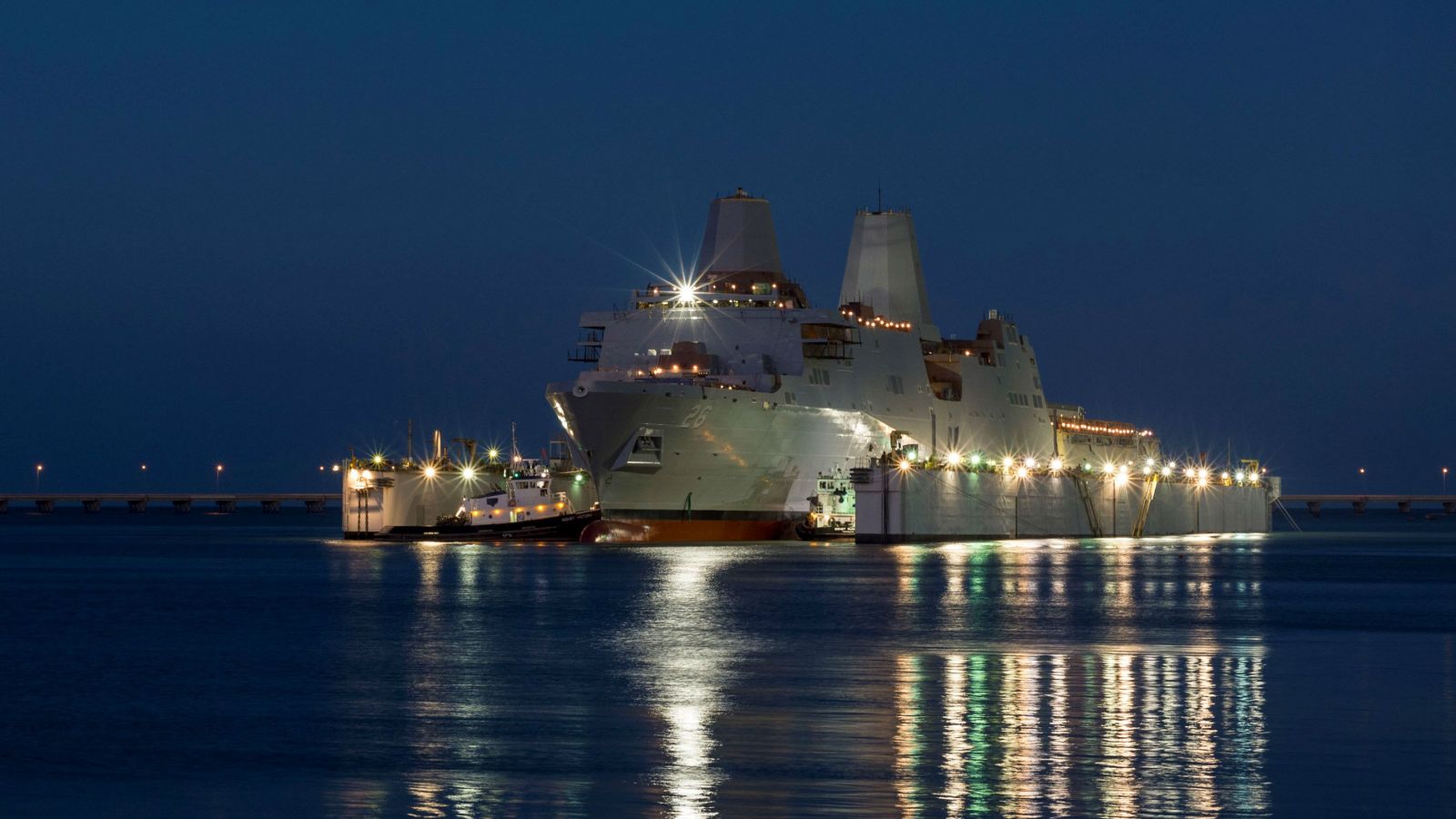 U.S. Transportation Secretary Anthony Foxx has announced updated data on the U.S. shipbuilding industry. The report, prepared by the U.S. Department of Transportation's Maritime Administration, found that the U.S. shipbuilding and repair industry supports jobs in all 50 states with a total of more than 110,000 jobs nationwide and contributes $37.3 billion dollars to the national GDP.
Currently there are 124 shipyards in the U.S., spread across 26 states, which are classified as active shipbuilders. In addition, there are more than 200 shipyards engaged in ship repairs or capable of building ships but not actively engaged in shipbuilding.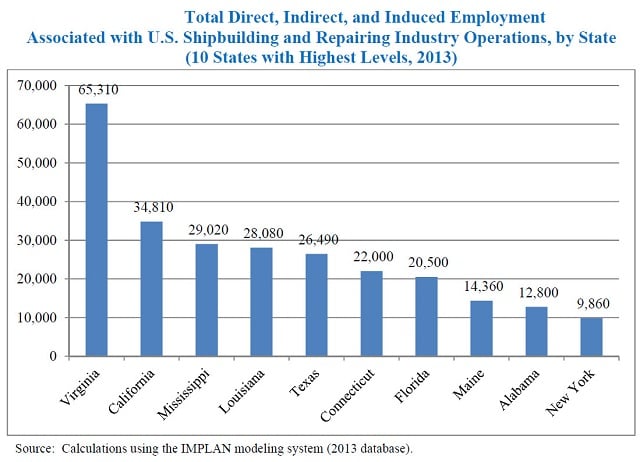 The majority of shipyards are located in the coastal states, but there also are active shipyards on major inland waterways such as the Great Lakes, the Mississippi River, and the Ohio River. Employment in shipbuilding and repairing is concentrated in a relatively small number of coastal states, with the top five states accounting for 63 percent of all private employment in the shipbuilding and repairing industry.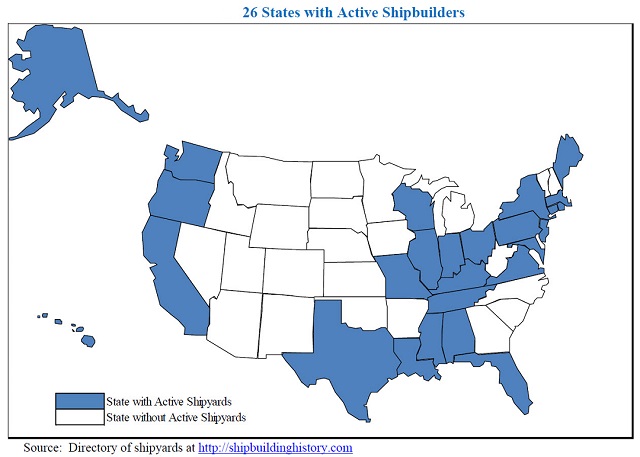 The federal government, including the U.S. Navy, U.S. Army, and U.S. Coast Guard, is an important source of demand for U.S. shipbuilders. While just one percent of the vessels delivered in 2014 (11 of 1,067) were delivered to U.S. government agencies, 10 of the 12 large deep-draft vessels delivered were delivered to the U.S. government: five to the U.S. Navy, four to the U.S. Coast Guard and one to the National Science Foundation.
U.S. shipbuilders delivered 1,067 vessels of all types in 2014, down from 1,147 vessels in 2013. Over 80 percent of vessels delivered during the last five years have been inland tank and deck barges. Deliveries of inland tank barges and tugs and towboats showed the greatest increase in terms of vessels delivered between 2010 to 2014.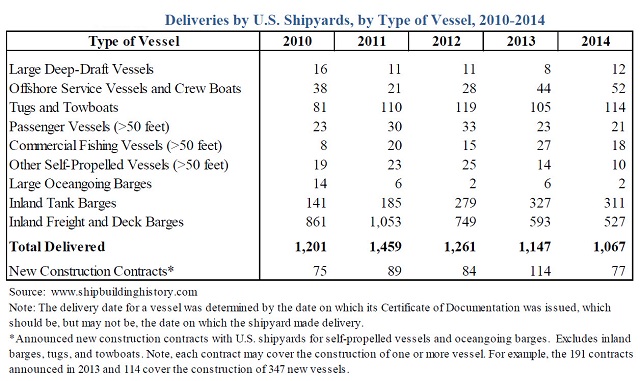 The largest expense for ship builders is purchases of raw materials and supplies used in the construction and repair of ships, including paints, steel plates, copper tubing, aluminum and iron castings. These purchases account for an estimated 48 percent of total industry costs. Labor costs are the second largest expenditure for the industry, amounting to approximately 30 percent of industry costs.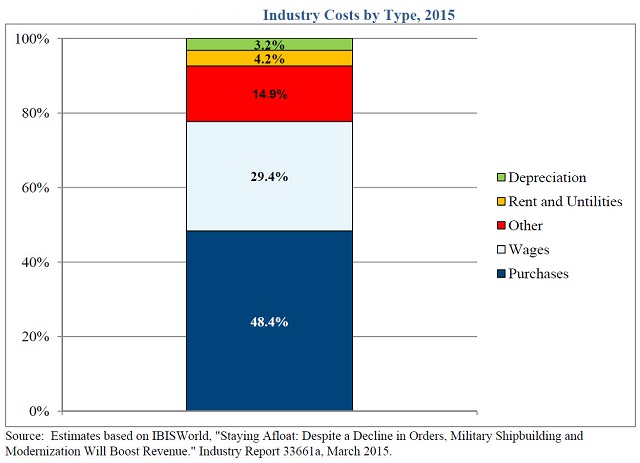 Imports of finished ships, inputs and repair services amounted to $398 million in 2014, down from $1.2 billion in 2013. Industry imports are limited by the Jones Act. Additionally, the defense sector remains the industry's biggest client, accounting for more than 70 percent of industry revenues. Because defense contracts typically require access to sensitive military technology and information, the U.S. government generally limits any foreign involvement in defense contracts.
In contrast, despite an increase in foreign competition, exports by U.S. shipbuilders have strengthened in recent years, rising to $1.2 billion in 2014 (representing 4.6 percent of industry revenues). As a result, the U.S. shipbuilding industry has run a trade surplus in six out of the last nine years and a cumulative trade surplus of $1.5 billion over this period.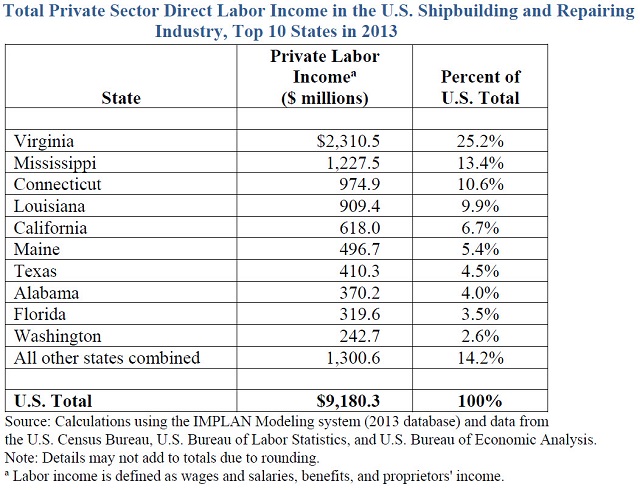 The full report is available here.