US Navy Wants to Keep 75 Surface Warships at Mission-Capable Status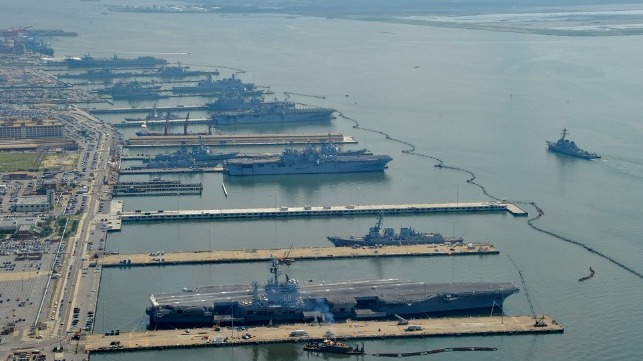 The U.S. Navy wants to build up surface force readiness and keep almost half of its surface fleet at "mission-capable" status on any given day, Naval Surface Forces Commander Vice Adm. Roy Kitchener said in a keynote address Tuesday.
"This goal isn't arbitrary or random. It was born from our investments in data analytics and an assessment of operational requirements," said Kitchener in comments at the Surface Navy Association's annual conference. "This imperative for 75 mission capable ships drives every program and action we take, and across our force, the enterprise is aligned to reach this 'North Star.'"
The surface force's current level of readiness is classified, but Kitchener told Navy Times that it would likely take several years to achieve a steady state with 75 mission-capable warships out of a fleet of 164 (not counting submarines).
In order to get there, Navy Surface Forces will stand up new Surface Maintenance Operations Centers specializing in each vessel class, each dedicated to minimizing downtime and sourcing parts. It will also reestablish Surface Readiness Groups, the naval base maintenance-management commands that were be tasked with oversight of warship repair and crew readiness.
Stepping up shipbuilding
Maintenance and manning are essential to readiness, but the service's top leadership is concerned that fleet size may be taking priority over capability at the policy level.
This budget cycle, Congress gave the Navy $4 billion more than it sought for new ships, with instructions to buy an additional Arleigh Burke-class destroyer every year. Meanwhile, as the service struggles with repair yard capacity, lawmakers required the Navy to keep some of its unwanted ships crewed and maintained, including early Freedom-class littoral combat ships and aging Ticonderoga-class cruisers.
"If we buy ships at a rate faster than we can sustain, we're going to pay for it, and I've just been unwilling to go down that path," Chief of Naval Operations Adm. Mike Gilday told SNA. "We're not going to have a Navy bigger than one we can sustain . . . . And so that caps us at a certain number of ships, and after that we need to stratify lethality from A to Z and then decide what platforms we're going to have to consider giving up."
He also took certain U.S. naval shipbuilders to task for delays in construction and challenged them to deliver what Congress has paid for, according to USNI.
"My message to industry would be to pick up the pace," he said. "I know that there are constraints with respect to the workforce and we're trying to get into a better place there. I know that we're trying to get after supply chain problems, but we just need to do better."