U.S. Navy Takes Global Operational Pause
Admiral John Richardson, U.S. Navy Chief of Naval Operations, has called for a global operational pause after the USS John S. McCain collided with a tanker on August 21.
The destroyer was involved in a collision with Alnic MC while underway east of the Straits of Malacca and Singapore early in the morning on Monday, and the destroyer arrived at Changi Naval Base in the afternoon with significant hull damage. The damage resulted in flooding to nearby compartments, including crew berthing, machinery and communications rooms. There are currently 10 Sailors missing and five injured.
"This is obviously an extremely serious incident and is the second such incident in a very short period of time, inside of three months, and, very similar as well, and is the last of a series of incidents in the Pacific Fleet in particular," says Richardson. "That gives great cause for concern that there is something out there that we're not getting at."
Richardson says the Navy is taking a much more aggressive stance to get to that level of understanding. The review aims to look at fundamentals, at the unit and team level - the basic seamanship, teamwork, how sailors work on the bridge.
"I've directed each of the fleet commanders to put together a plan, and I'm going to leave them some freedom to get at how they address those fundamentals, because each one of those commanders is wrestling with a different situation in their geographic area," said Richardson. "We want to do this pretty briskly, my direction will be about a week."
While the review will take about a week, the operational pause will only be for a day or two.
Possibility of Intentional Collision
Richardson says that the possibility that the collision was intentional on either side is something the Navy is giving full consideration. "We have no indication that that's the case yet. But we're looking at every possibility, so we're not leaving anything to chance there." He said the potential for cyber sabotage is also being looked at.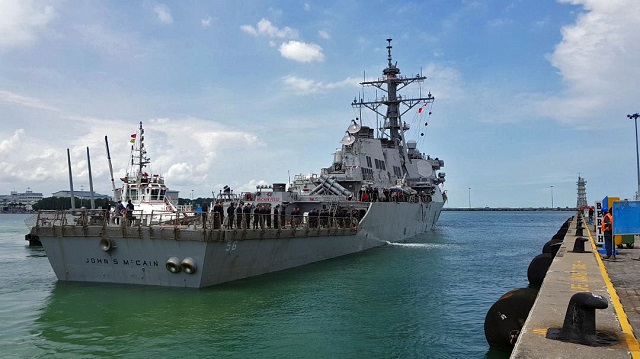 Comprehensive Review
Richardson has also called for a comprehensive review into the root causes of this accident and the June 17 collision between USS John S. McCain's sister ship USS Fitzgerald and the Philippine-flagged merchant vessel ACX Crystal.
The review will "examine the process by which we train and certify our forces that are foward-deployed in Japan" including both tactical and navigational proficiency, and it will be in addition to the investigations that look into the details of the collisions.
The review will be headed by Admiral Philip Davidson, and Richardson says its scope will not only span the Navy, but look outside the military as well. "I would envision bringing in some industry experts," he said. Richardson envisages this more comprehensive review will take several months.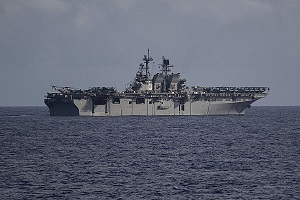 Support at Changi Naval Base
Meanwhile, amphibious assault ship USS America (LHA 6) has arrived at Changi Naval Base in Singapore and is moored across the pier from the USS John S. McCain.
America will provide messing and berthing services to McCain crew members and support damage control efforts on board. America will also support ongoing searches for 10 missing Sailors. Divers are on scene as well to assess the damage to the hull.
Search and Rescue Efforts
Search and rescue efforts continue in coordination with local authorities. Royal Malaysian Navy ships have joined the search, providing KD Handalan, KD Gempita, and KM Marudu and a Super Lynx helicopter.
Republic of Singapore Navy Fearless-class patrol ships RSS Gallant (97), RSS Resilience (82), and a Singaporean Police Coast Guard vessel Basking Shark (PH 55) have rendered assistance. Gallant along with an SAF Super Puma helicopter and Police Coast Guard vessels Tiger Shark (PH 54) and Sandbar Shark (PH 56) continue to provide assistance.
U.S. Navy MH-60S helicopters and MV-22 Ospreys from USS America are also supporting search efforts at sea.