U.S. Leader Talks of Peace in Asia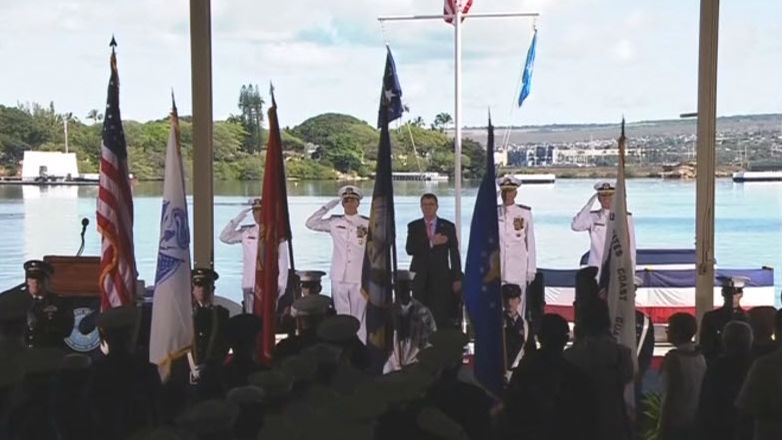 U.S. Defence Secretary Ash Carter has been focusing on maritime security during his tour of Asia last week. After viewing a Vietnamese coast guard vessel that was rammed by a Chinese ship last year, he pledged $18 million to help the nation buy U.S. built Metal Shark patrol boats.

Carter's 11 day trip has seen him visit naval and coast guard headquarters in Vietnam looking to "modernize" relations. He started his Asian tour calling for a stop to island building in the South China Sea, and it has been a focus of his dialogue with Australasian leaders. Although Vietnam has also reclaimed land in the sea, Carter singled out China's large-scale activities extending to several thousand acres.
Malaysia Concerned
Carter also met with Malaysian Minister of Defense Datuk Seri Hishammuddin in Singapore where he congratulated Malaysia on its successful chairmanship of the Association of Southeast Asian Nations (ASEAN), pointing to a host of recent ASEAN initiatives which have successfully bolstered regional security, including cooperation in humanitarian and disaster relief, peacekeeping, anti-piracy and counterterrorism.
The two leaders met on the sidelines of the Shangri-La Dialogue, a major annual forum for key leaders in the Asia-Pacific region to discuss security challenges and opportunities. They shared their concerns regarding Chinese land reclamation in the South China Sea. They agreed that all regional tensions should be resolved in accordance with international law. Carter expressed gratitude to Hishammuddin for advocating for an increase in cooperative maritime patrol flights.
Australia and Japan Alliance Building
Ash, Japanese Defense Minister Gen Nakatani and Australian Minister for Defence Kevin Andrews also held trilateral defense ministerial talks in Singapore last week. This was the fifth meeting of its kind among the three nations' top defense officials.
The defense ministers from Japan and Australia reaffirmed the strength of their respective alliances with the United States as essential to peace and security in the Asia-Pacific region, and underscored their enduring support for the U.S. rebalance to the region.
Recalling Japan's path as a peace-loving nation for the last 70 years, the U.S. secretary of defense and Australian defense minister welcomed and supported Japan's recent efforts to play a greater role in regional and global security, including its efforts to develop legislation for peace and security under the banner of "Proactive Contribution to Peace" based on the principle of international cooperation.
The leaders expressed strong opposition to the use of coercion or force to alter the status quo in the East China and South China Seas unilaterally and their serious concern over Chinese land reclamation activities. They urged all South China Sea claimants to exercise self-restraint, halt reclamation activities, take steps to ease tensions and refrain from provocative actions that could escalate tensions.
They called on governments to clarify and pursue territorial claims and accompanying maritime rights in accordance with international law. They also called for ASEAN and China to reach early agreement on a meaningful code of conduct in the South China Sea.
Australia's top five trade partners are all in the Indo-Pacific, and approximately 98 percent of the nation's international trade by volume travelling by sea – and more than half of that through the South China Sea.
Russia Steps Up
Also in Singapore is Russian Deputy Defense Minister Anatoly Antonov. He said that Russia will take part in naval military exercises together with its Asia Pacific allies including the May 2016 drills which have a focus on counter-terrorism and naval security.
RT reports Antonov also said he was concerned about stability in the region, naming the U.S. as the main destabilizing factor with policies aimed against Russia and China: "We are concerned by U.S. policies in the region, especially since every day it becomes increasingly focused on a systemic containment of Russia and China."