U.S. Court Arrests Canadian-Owned Ferry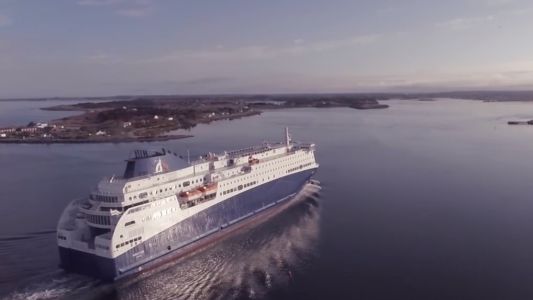 The pilots' association of Portland, ME alleges that Canadian ferry operator Nova Star Cruises Ltd. is nearly $200,000 behind in payments for pilotage, and a federal court has ordered the U.S. Marshals to arrest Nova's ro/pax vessel Nova Star as collateral.
Early on Nov. 1, the U.S. Marshals service informed Canadian agency Global News that the ferry had been seized, and was in the custody of a company specializing in vessel arrests. AIS data showed the ferry at anchor near Portland harbor at the time of the arrest.
In an Oct. 30 court filing, Portland Pilots, Inc. claimed that its pilots provided 61 inbound and outbound transits of Portland's harbor for the Nova Star over the past month, at a cost of more than $3,000 each way, for a total of $196,000 in unpaid dues. Several merchants and at least one advertiser also claim that the ferry operator is months behind on its bills.
Nova has faced financial difficulties since the beginning of its service in 2014. The initial projections for the ferry run assumed 100,000 passengers annually, but demand has fallen far short of that mark, coming in at less than 60,000 last year. Advertising campaigns in the US – including $3.4 million spent in the greater Boston area and New England – did not seem to boost monthly traffic on northbound cruises to Nova Scotia, and a weak Canadian dollar may have contributed to a decline in trips bound for Maine.
On Oct. 29, Nova Scotia Minister of Transport Geoff MacLellan announced that the ministry was giving the contract for the Nova Star's route to another company for the 2016 season. The new operator, Bay Ferries Ltd., already runs two ferry routes in the province.
In August, Nova Star Cruises had been in discussions with company Euroferries Express to put the ship into service on a winter route across the Engish Channel. The concept was to sail the Nova Star over to Britain for the winter season, then bring it back in the summer for the run from Nova Scotia to Maine, using the additional revenue to offset losses on North American operations. Paul Woodbury, a ferry consultant familiar with European operations, told the Portland Press Herald that the plan was unlikely to work as a winter-only scheme, and that he would "be highly surprised to see the ship come to the English Channel."