Unique LNG-Fuelled Ro-Ro Enters Service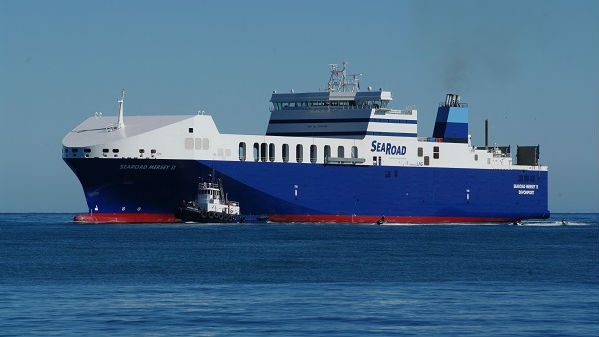 A unique LNG-fuelled ship operated by SeaRoad of Australia has arrived at its home port, Devonport, Tasmania. Searoad Mersey II is the first coastal ship in Australia to use LNG fuel and the first pure dry cargo ship in the world to use a roll-on roll-off LNG supply system.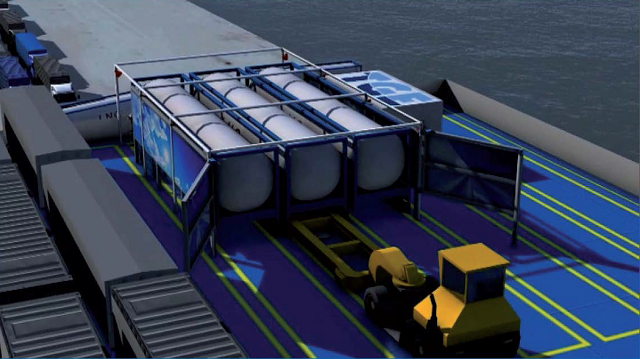 All of the ship's principal engines are dual-fuel, burning LNG as the primary source of energy. In regular service, Searoad Mersey II will use diesel for less than one percent of ship operations.
Dedicated in-port LNG supply facilities such as specialist bunker barges and associated infrastructure are expensive and the costs must be borne, at least initially, by a limited number of users. SeaRoad's unique ro-ro LNG method overcomes these handicaps.
The complete LNG system was supplied by Cryo of Sweden and features seven Type C portable fuel tanks manufactured at VRV of Milan, Italy. The LNG tanks are driven on and off as would be any ro-ro cargo. At any one time, three of the purpose-built tanks will be positioned on the stern of the weather deck of the ship, where they are secured to the special loading bays with multiple twist-locks.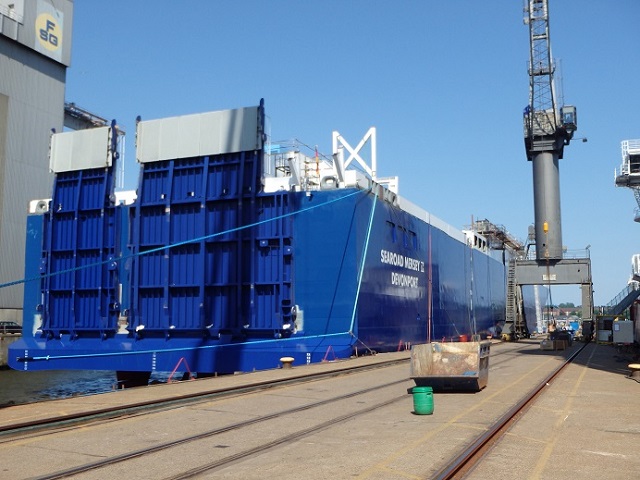 Once in position the tanks are "plumbed in" via special manifolds to the ship's fuel system, which is otherwise standard technology for any gas-burning installation. While the ship is at sea, the liquid is converted in a gas-handling room situated below deck and fed to the dual-fuel engines.
When in port, the tank trailers are removed via the vessel's stern ramp, driven away to be refilled and returned. The vessel's LNG capacity is more than adequate for Bass Strait crossings with a considerable safety margin, and there is always the fall-back of diesel if required, says SeaRoad.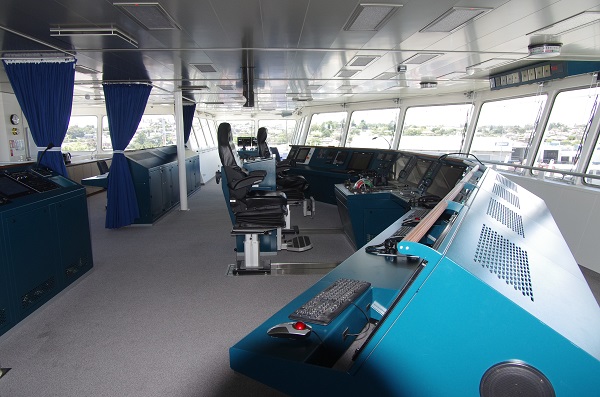 Under the command of Captain Lloyd Cahill, Searoad Mersey II sailed up its namesake river, to an enthusiastic welcome last Sunday, ready for her first voyage on Wednesday. "This is truly represents a new era for Australian shipping and especially for Tasmanian exporters and importers, and it leads the world with its pioneering LNG refuelling system," Cahill said.
The A$110 million ($81 million) project has been driven by the chairman of SeaRoad Holdings, Chas Kelly. "Tasmania has needed this vessel for the past few years, and its arrival gives SeaRoad a 50 percent increase in our available capacity to move freight between Tasmania and the mainland, all year round."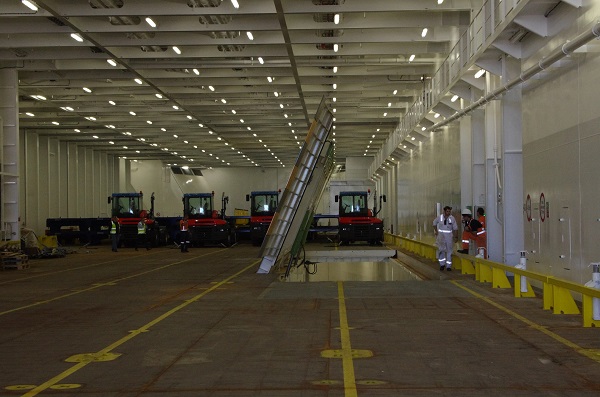 The vessel was built by Germany's Flensburger Schiffbau-Gesellschaft (FSG) shipyard, and DNV GL provided full classification services. At the end of September, Bomin Linde LNG performed the initial fuelling of the Searoad Mersy II before she sailed to Australia.
The ship sailed under her own power via the Cape of Good Hope on a voyage that took a little over a month. She stopped for bunkers in Las Palmas (Canary Islands), Cape Town (South Africa) and Fremantle and arrived in Devonport, Tasmania on December 11. The delivery voyage was undertaken using diesel. Searoad Mersey II will not begin full LNG operations until the first quarter of 2017.