U.S. Navy's Carriers Prepare for Active Shooter Scenarios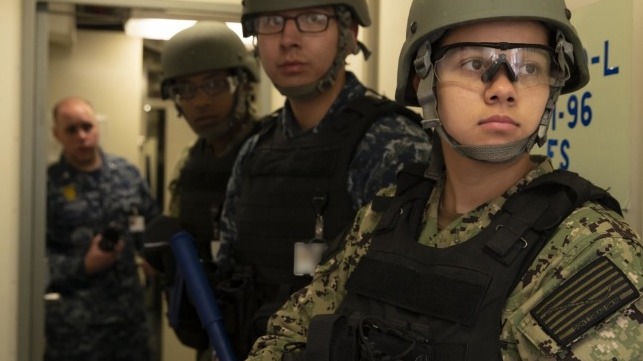 After several high-profile mass shootings, the U.S. Navy has implemented an active shooter training program, and it uses it to prepare for a situation that most organizations would not imagine: an incident aboard a large vessel at sea.
"You see it every day in the news," said Chief Master-at-Arms Jonathan Plowman, who serves aboard the aircraft carrier USS Gerald R. Ford. "Active shooters have been happening throughout the world. It's important for our team to see what this scenario might look like in a real-world event."
Plowman says that USS Ford conducts an active-shooter training every month in order to evaluate how well its security forces and medical teams respond. "When you respond to an active shooter, you don't have the opportunity to wait for backup," said Plowman. "During this drill, we need to execute as safely as possible, hopefully with no casualties."
Sadly, active shooter incidents are not new for the Navy. On Sept. 16, 2013, a government contractor fatally shot 12 people and injured three others at the headquarters of Naval Sea Systems Command in Washington D.C. The incident ended when law enforcement officers neutralized the shooter.
Earlier this month, a male servicemember shot and wounded a female sailor at Naval Air Station Oceana in Virginia Beach. The attacker was shot and killed by base security agents.
These events are on the minds of Ford's security team members when they run active-shooter drills. "I believe that the shooting in Oceana made it aware to people that it's not always somebody else, it could happen here," said Senior Chief Aviation Ordinanceman Joshua Adkins, who served as Ford's antiterrorism tactical watch officer during the drill. "When something like that happens in your backyard . . . it shows us that it does happen and we need to be prepared for it."