U.S. 2nd Fleet Re-established to Counter Russian Navy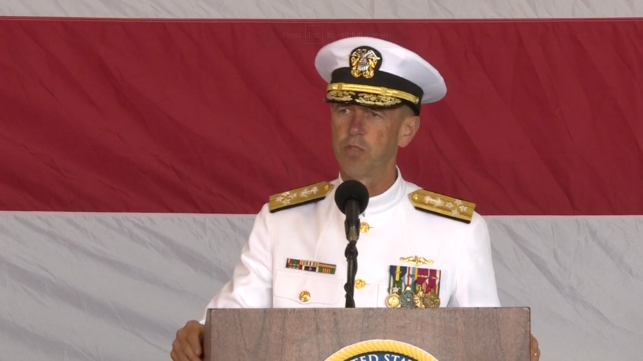 In a ceremony in Norfolk on Friday, Chief of Naval Operations Adm. John Richardson formally re-established U.S. 2nd Fleet. The new command is intended bolster the U.S. Navy's capability in the North Atlantic and counterbalance the rising levels of Russian activity in the region.
"Although deeply consequential, the meaning of this establishment can be summarized simply as a dynamic response to a dynamic security environment," said CNO Richardson. "We first need to understand this competitive security environment and why it demands every ounce of our tenacity, ingenuity and fighting spirit. Then we can focus on the mission and how best to accomplish it; 2nd Fleet will enhance our capacity to maneuver and fight in the Atlantic, and as a result, help to maintain America's maritime superiority that will lead to security, influence and prosperity for our nation."
The resurrected 2nd Fleet will still be subordinate to U.S. Fleet Forces Command, which assimilated the former 2nd Fleet in 2011. Fleet Forces will keep its focus on training, manning and equipping the entirety of the Navy.
2nd Fleet's 250 staff will have authority over assigned ships, aircraft and landing forces on the U.S. East Coast and the North Atlantic. It will also have responsibilities for training and certifying combat units within this region before deployment elsewhere.
The command has been stood up once more in order to fulfill the Navy's renewed focus on near-peer competitors. Over the last few years, Russian patrols in the North Atlantic have increased to levels last seen during the Cold War, and having a fleet-level command focused on the region will help the Navy to counterbalance this development.
"Our sea control, our power projection — two vital elements of our national security — are being challenged by resurgent powers, namely Russia and China," said Adm. Christopher Grady, Fleet Forces' newly appointed commander, in comments at Friday's ceremony. "We as a [nation] have not had to confront such peer competitors since the Cold War ended nearly three decades ago."