U.S. Navy Places Advance Order for 10 New Destroyers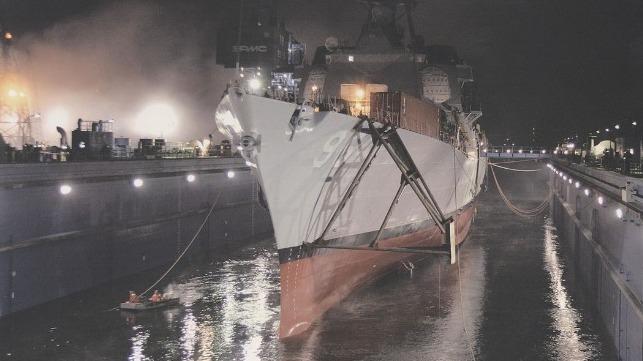 The U.S. Navy has awarded contracts for 10 new Arleigh Burke-class destroyers from General Dynamics Bath and Huntington Ingalls Industries.
"The Navy saved $700 million for these 10 ships by using multiyear procurement contracts rather than a single year contracting approach," said James F. Geurts, the assistant secretary of the Navy for R&D and acquisition. "We also have options for an additional five DDG-51s to enable us to continue to accelerate delivery of the outstanding DDG-51 Flight III capabilities to our naval force."
The two contract awards include $3.9 billion for General Dynamics for four destroyers from FY2019 through FY2022, and $5.1 billion for Huntington Ingalls for six destroyers from FY2018 through FY2022. This arrangement gives Bath Iron Works one year off from new destroyer starts as it transitions from the challenging Zumwalt program and the former Flight-IIA design to the new Flight III.
The contract's options are structured to allow the Navy to order more destroyers in any given fiscal year if Congress decides to allocate more funding, which would help the service towards its target of a 355-ship force.
The Flight III variant keeps the Arleigh Burke's basic design but adds the upgraded AN/SPY-6(V) Air and Missile Defense Radar. The new radar package is intended to increase the vessel's ability to detect and counter ballistic missiles, as well as other airborne and surface threats. Builder Raytheon claims that the new radar can detect a target half the size at twice the range when compared with the previous-generation AN/SPY-1D(V) system.