U.S. Navy Orders Two More Ford-Class Aircraft Carriers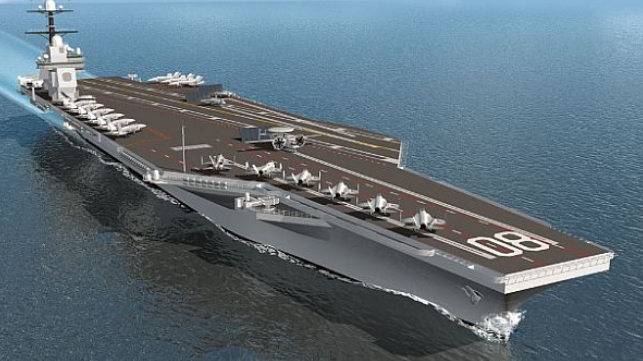 The U.S. Navy has awarded a contract for the construction of two Ford-class aircraft carriers, CVN 80 and CVN 81, to Huntington Ingalls Industries-Newport News Shipbuilding. The contract is valued at $15.2 billion and is expected to deliver savings of over $4 billion compared to the Navy's original cost estimates for procuring the vessels separately.
CVN 80 will be named Enterprise, CVN 81 is yet to be named. The ships are scheduled to be delivered in 2028 and 2032, respectively.
"Today's announcement is a triumphant step toward returning to a 12-ship aircraft carrier fleet and building the 355-ship Navy our nation needs," said Jennifer Boykin, president of Newport Shipbuilding. "Most importantly for us, it provides stability into the year 2032 for our workforce and for our supplier businesses across the United States."
Buying two aircraft carriers will stimulate Newport News' aircraft carrier supplier base of more than 2,000 suppliers in 46 states, and the company anticipates being able to complete an aircraft carrier every three to four years.
In addition to these savings, the contract includes ship integration costs of several modifications required to meet emerging threats including the F-35C Lightning II, MK 38 gun system and MQ-25 Stingray Unmanned Aircraft System. These modifications increase the lethality of the Ford Class, and represent an additional $100 million in savings that is in addition to the $4 billion, since these new capabilities were not included in the original single-CVN Navy estimate. Plus, these new savings associated with new capabilities increases to $200 million if installed in the ship before delivery, in comparison to installing after ship delivery.
This Fixed Price Incentive (Firm Target) (FPIF) contract limits the Navy's liability and incentivizes the shipyard's best performance. The contract guarantees a single technical baseline for both ships, which allows the shipyard to re-use engineering rollover products, minimize changes between the two ships and leverage economic order quantities for equipment and material procurement.
The new carriers are expected to replace Nimitz-class carriers, which have served the U.S. Navy for more than 40 years. Enterprise (CVN 80) is the third ship of the FORD-class and the numerical replacement for USS Eisenhower (CVN 69). CVN 81 will be the numerical replacement for USS Carl Vinson (CVN 70).
Ford-class carriers are equipped with electromagnetic-powered aircraft launch system (EMALS). Unlike legacy steam catapults, EMALS was designed to vary the stroke of the launch depending on the size and weight of the aircraft, facilitating better launching of relatively light aircraft such as drones. However, the system on the first carrier in the series, the $13 billion Gerald R. Ford (CVN 78), has suffered failures of its aircraft launch-and-landing system. Bloomberg reports that the Gerald R. Ford experienced 20 failures at sea, according to the U.S. testing office.