U.S. Coast Guard Offloads $360M Cocaine Haul in Miami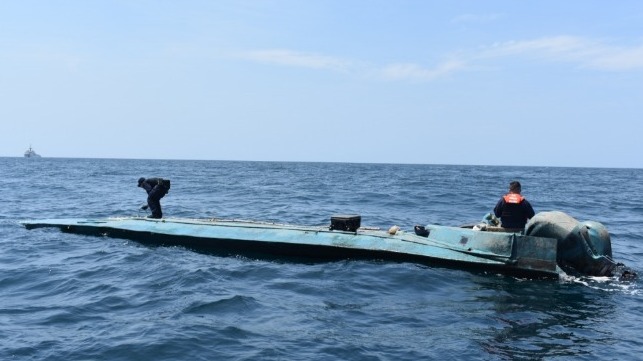 On Friday, the crew of the Coast Guard cutter Tampa offloaded about 27,000 pounds of cocaine at Coast Guard Base Miami Beach, worth an estimated $360 million wholesale. It is the latest in a long series of multi-tonne drug seizures taken in the Eastern Pacific's busy trafficking zone.
The drugs were seized off the coasts of Central and South America, and they represent the results of a dozen separate smuggling vessel interdictions. Three cutters contributed to the haul: the cutter Dependable interdicted two boats and seized about 2,900 pounds; the Tampa interdicted six boats and seized about 18,000 pounds; and the Venturous interdicted four boats and seized about 7,200 pounds.
"Tampa's crew is extremely proud of the work they accomplished over the past three months. There are few things more frustrating to our sailors than idle deployments, and none more gratifying than accomplishing a very important mission with impacts that resound across our nation. For many of the crew, this will be their last deployment on Tampa, and it's one they will always remember." said Cmdr. Nicholas Simmons, the cutter's commanding officer.
Cocaine bales in a go-fast boat, Feb. 2019 (Cutter Tampa / USCG)
The Coast Guard has increased U.S. and allied presence in the Eastern Pacific Ocean and Caribbean, which are known drug transit zones off of Central and South America. During at-sea interdictions in international waters, each suspect vessel is located and tracked by one or many of the federal agencies, military units and allied partners involved in the counternarcotics effort. The interdictions, including the actual boarding, are led and conducted by U.S. Coast Guardsmen. The law enforcement phase of counter-smuggling operations in the Eastern Pacific is conducted under the authority of the Coast Guard 11th District, headquartered in Alameda, California.
The effort has yielded impressive results. In FY2017, the Coast Guard seized about 445,000 pounds of cocaine worth an estimated $6 billion, compared with about 36,000 pounds seized on shore by U.S. Customs and Border Protection.