U.S. Closes Russian Consulate in Seattle, Citing Naval Base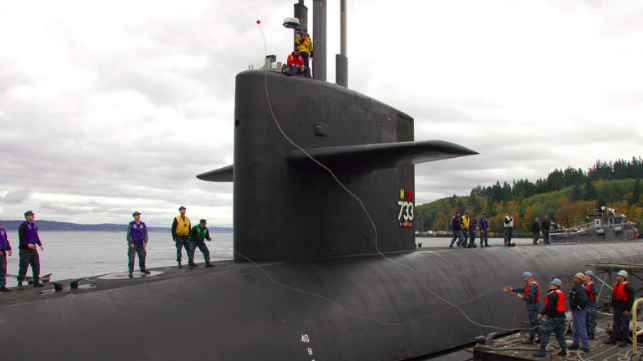 The Trump administration has ordered the closure of the Russian consulate in Seattle, Washington, citing its proximity to the U.S. Navy's strategic Kitsap-Bangor nuclear submarine base. 60 Russian diplomats will be expelled, the largest number at one time since the Reagan administration.
The Kitsap base may house the largest number of nuclear warheads stored at any single location in the world. It is the home port for eight of the Navy's Trident nuclear ballistic missile submarines, several of which are berthed at any given time, plus a stockpile of hundreds of spare nuclear weapons. All told, Naval Base Kitsap could be the home of more than 1,000 warheads, according to the Federation of American Scientists.

Rows of bunkers at Naval Base Kitsap-Bangor, located 20 miles from Seattle (DigitalGlobe)
The closure of the consulate is a response to an alleged assassination attempt in the UK earlier this month. The attack involved the use of a Russian-developed nerve agent, Novichok, and it is believed to be the first use of a nerve agent in Europe since the end of the Second World War. The incident resulted in the hospitalization of a Russian spy-turned-British informant, Sergei Skripal, along with his daughter Yulia and a local policeman, Sgt. Nick Bailey. The U.S. and 19 other nations have joined the UK in expelling Russian diplomats in protest. Russia denies involvement in the attack.
State Department spokeswoman Heather Nauert said that the closure of the Seattle consulate was intended to send a message about the Skripal incident. As a side benefit, officials say, it will also help to reduce the number of Russia's spies in the U.S. "We assess the Russian consulate in Seattle to be part of this broader problem of an unacceptably high number of Russian intelligence operatives in the United States," a U.S. official told CNBC.
Russian foreign ministry spokesman Dmitry Peskov said that Russia will respond by expelling an equal number of diplomats from each country involved. "We deeply regret the taken decisions. The so-called Skripal case is said to be the reason. We already stated and reconfirm that Russia has never had any relation to this case. We will be guided by the principle of reciprocity as before," he told media on Monday.