U.K. Gives Franklin Wrecks to Canada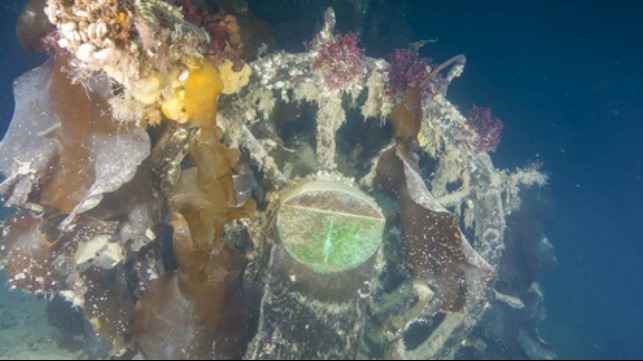 The Government of Canada has received an historic gift: the HMS Erebus and HMS Terror. The U.K. government made the gift official last Thursday, over 150 years after the two British Royal Navy ships went missing in the Canadian Arctic only to be recently discovered resting on the ocean floor near King William Island.
The two shipwrecks of the 1845 Franklin Expedition are now jointly owned by Canada and Inuit through Parks Canada and the Inuit Heritage Trust. The U.K. will retain the 65 artifacts already recovered from HMS Erebus by Parks Canada's Underwater Archaeology Team as a representative sample of their importance and symbolism. All yet-to-be discovered artifacts from HMS Erebus and HMS Terror – along with the wrecks – will now be jointly owned by Canada and Inuit.
The locations of the vessels had been a mystery for over 150 years, after Sir John Franklin and his crew went missing in 1846 while searching for a Northwest Passage. Over time, Inuit traditional stories helped European searchers better understand the fate of the Franklin ships; and that same traditional knowledge – or Inuit Qaujimajatuqangit – combined with the technology of modern searchers, finally uncovered the sunken vessels. HMS Erebus was located in 2014 and HMS Terror was located in 2016.
Parks Canada's upcoming investigation of HMS Erebus and HMS Terror, in collaboration with Inuit, will usher in one of the largest and most important underwater archaeological projects in Canadian history. Parks Canada experts anticipate that the thousands of artifacts remaining on the two shipwrecks, which may include written documents, will help further unravel the mystery of the British expedition.
Parks Canada is working with the Franklin Interim Advisory Committee to develop an Inuit Guardians Program for the two vessels. Inuit Guardians will be posted at both wreck sites during periods with little ice to monitor the sites, report any unauthorized vessel traffic, and help Parks Canada ensure their protection.
The vessels
HMS Erebus (Hecla class)
Constructed: Pembroke Dockyards, Wales, as a bomb vessel
First Launched: June 7, 1826
Dimensions: 105 feet (32m) long; 28.5 feet (8.7m) wide; 13.8 feet (4.2m) draft
Displacement: 372 tons
Original Armaments: two mortars; 10 cannons
Original Propulsion: three-masted sailing ship
HMS Terror (Vesuvius class)
Constructed: Davy Shipyard, Topsham, England, as a bomb vessel
First Launched: June 29, 1813
Dimensions: 02 feet (31 m) long; 27 feet (8.2m) wide; 22.5 feet (6.86m) draft
Displacement: 325 tons
Original Armaments: two mortars; 10 cannons
Original Propulsion: three-masted sailing ship
Both HMS Erebus and HMS Terror were built as Royal Navy bomb vessels and carried mortars mounted on a rotating platform at the ship's centerline, near the bow. The high angle of these mortars allowed them to fire explosive shells over long distances. Bomb vessels were designed for bombarding fixed positions on land, such as artillery formations, harbor installations and forts.
In order to support the strong recoil from the mortars, the rotating platform had to be supported by a strong internal wooden framework. Many bomb vessels were converted for peacetime exploration in the Arctic and Antarctic because this robust construction provided them with a greater chance of withstanding the constant menace of pack ice and icebergs.
The Royal Navy had used both ships for many years before they were assigned to Franklin and Crozier. HMS Terror, as the older vessel, saw action during the War of 1812. Notably, it was one of the ships involved in the bombardment of Fort McHenry, one of the war's last battles. The bombardment provided the inspiration for Francis Scott Key to write the American national anthem "Star Spangled Banner". After being retrofitted for polar exploration, HMS Terror went to the Arctic with George Back in 1836-37 and both ships participated in James Clark Ross's Antarctic Expedition 1839-1843.