Type 45 Destroyer Suffers Engineering Casualty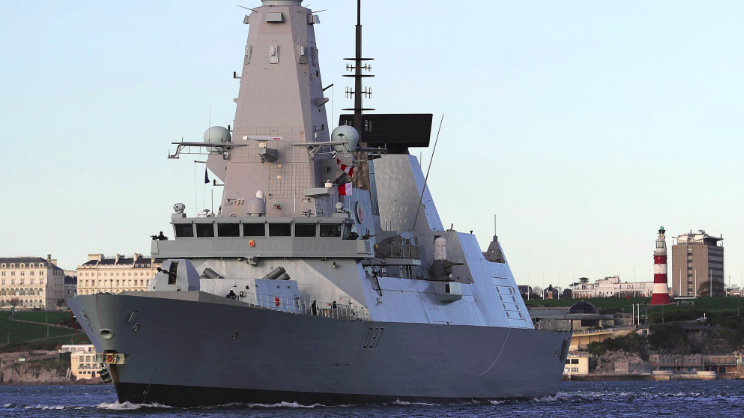 On Wednesday, the Royal Navy Type 45 destroyer HMS Duncan suffered unspecified "technical issues" and had to be towed back to Plymouth. She was participating in a training exercise at the time of the incident.
Photos show her under tow by three large assist tugs, and civilian eyewitnesses told UK media that she appeared to be without power.
On Friday, the Royal Navy said in a statement that the Duncan had sailed from Plymouth once again and would be resuming her duties.
In a social media post, Vice Admiral Jonathan Woodcock, Second Sea Lord, said that the casualty was minor. "One small mechanical repair done and back to sea. Judge the [Royal Navy] on actions, not ill informed commentary," he wrote.
The Type 45 class has been plagued with propulsion failures stemming from the design of the intercooler for their main turbine generators (among other causes). The same turbines provide ships' service electricity, a complex arrangement known as an integrated electric propulsion system. It has benefits, but for the Type 45 class, it has meant that the vessels have at times lost both their propulsion and their electrical supply – taking their weapons systems, radars and electronics offline.
The UK press has reported several instances of the problem: the HMS Daring lost power in the Atlantic in 2009, and again off Kuwait in 2012; the HMS Dauntless lost power off Senegal in 2012, and again during an exercise off England's southern coast in 2014.
The maker of the Type 45's intercoolers told Parliament earlier this year that the hot climate of the low latitudes (particularly the Persian Gulf) was more than the ship's propulsion could handle for extended periods, and that the complexity of the system led to unforeseen problems.
All six of the vessels will eventually be retrofitted with other engines to provide backup power. The Navy had hoped that the $1 billion destroyers would be able to go for more than two decades without a major refit, a key cost-saving component of the procurement plan; instead, each will be cut open and upgraded at the next drydocking.