Two U.S. Destroyers Conduct FONOPS Near Mischief Reef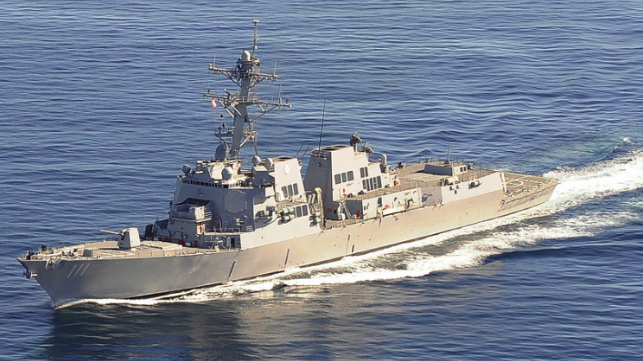 As China and the U.S. prepare to resume negotiations to end an escalating trade war, two U.S. Navy destroyers conducted a freedom of navigation exercise near Chinese-claimed land features in the Spratly Islands. The disputed area is the scene of frequent (and occasionally tense) encounters as the United States seeks to challenge China's claims to the waters of the South China Sea.
According to the Chinese foreign ministry, the PLA Navy tried to warn off the USS Spruance and USS Preble as they approached Chinese-claimed islands in the Spratly chain. As after previous FONOPS, the ministry called for the U.S. to "immediately stop its provocative actions" in the area.
"The relevant actions of the US warships violated Chinese sovereignty, and undermined peace, security, and order in the relevant sea areas," said Chinese foreign ministry spokeswoman Hua Chunying. "China has always respected and safeguarded freedom of navigation . . . but resolutely opposes any country falsely using [it to] harm the sovereignty and security of coastal countries."
In comments to Reuters on Monday, a U.S. defense source indicated that the latest FONOP occurred in the vicinity of Mischief Reef, a Chinese military installation built on reclaimed land, and near Second Thomas Shoal, which is claimed and held by the Philippines. Chunying named both features in her statement of protest.
"China has indisputable sovereignty over islands in the South China Sea, including the Second Thomas Shoal, Mischief Reef, and the adjacent waters," she said.
The confrontation in the South China Sea is a key strategic consideration for both the PLA Navy and the U.S. Navy. China is planning to build four nuclear-powered aircraft carriers in a bid to counterbalance U.S. influence in the western Pacific, and the U.S. Navy is shifting its priorities to prepare for a conflict with a near-peer competitior like China or Russia.
U.S. chief of naval operations Adm. John Richardson recently visited China to discuss the existing code of conduct for interactions between the two nations' navies, and he emphasized that it should also extend to irregular forces. China deploys an armed "maritime militia" of fishermen with military training and backing, which operates in a quasi-covert role to defend Chinese interests in the South China Sea. "Let's not be obstructing one another, driving our ships in front of one another, throwing obstacles in front of the ship. Let's just be biased towards making it easy," Adm. Richardson said, speaking to the Atlantic Council last week.
Richardson also called for "muscular" enforcement mechanisms that would allow warships to challenge vessels that are operating without AIS. Turning off AIS is a common practice among fishermen: the signal can be received by any AIS transciever, and can give away the location of prime fishing spots to competitors or make illicit fishing activity visible to law enforcement. Historically, turning off AIS has also been common practice aboard the U.S. Navy's warships, and may have been a contributing factor in the collision involving USS Fitzgerald in 2017. The service has since revised its rules in favor of broadcasting AIS in areas of high traffic.