Two Cruise Lines Skip Amsterdam Over Passenger Tax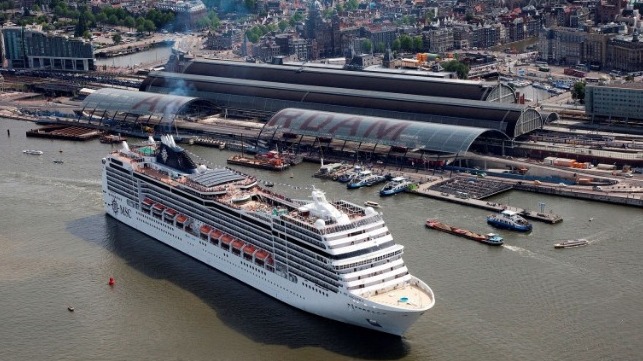 Two cruise lines have decided to skip port calls in Amsterdam in protest over the city's new tax on transit passengers.
The new tax, a flat $9 fee per passenger per day for sea and river cruise ships making port calls, is intended to offset tourism's impact on city services. It does not apply to home-ported vessels sailing out of Amsterdam, nor to individuals who live in Amsterdam.
MSC Cruises and Cruise & Maritime Voyages (CMV) have indicated that they will both skip most Amsterdam port calls in response to the tax, which the Municipality of Amsterdam implemented on short notice. On future itineraries, MSC Cruises is substituting Rotterdam, where there is no comparable tax per passenger.
CMV cited the rapid implementation of the tax as an obstacle to compliance. "Stringent cost controls and long-term planning are key components in achieving the required CMV pricing model. The late introduction of these new and un-phased charges are therefore not budgeted and simply cannot be absorbed," said CMV CEO Christian Verhounig in a statement. "Fortunately, we have mobile assets and when forced by short-term political objectives, [we] can change our programming."
The Cruise Lines International Association opposes the measure, and last month it detailed its concerns in an open letter. "Cruise passengers visiting Amsterdam, who already pay a significant amount in port fees and other tariffs, will have to pay [the tax] whilst other day tourists, who arrive in Amsterdam by train, bus or car, would not have to pay a day tourist tax and do not also pay port or other fees," CLIA wrote. The association predicted that some cruise lines might stop calling Amsterdam in response, costing the city existing revenue from cruise tourism.
While Amsterdam lacks a fee for shoreside day-trip visitors, as CLIA noted, it does have a seven-percent tax on overnight accommodation for non-cruise tourists. The lodging tax has a similar intent as the cruise tax, albeit a lower impact: for a midrange hotel priced at $80 per night, it amounts to a daily fee of about $5.50 per person.