Turkish Maritime Sector Bands Together for Earthquake Relief Sealift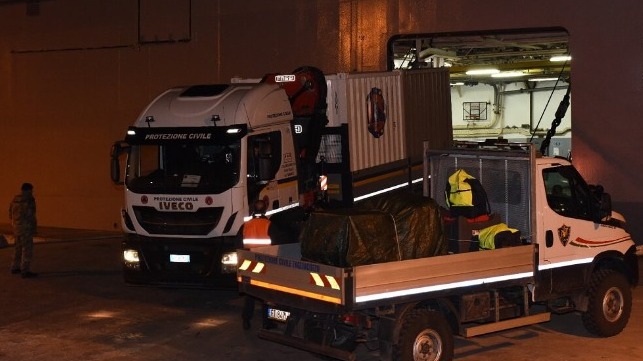 Turkey's shipping and ports communities are pulling together to aid disaster-relief operations in the country's southern region, where a devastating magnitude 7.8 earthquake killed more than 20,000 and left tens of thousands homeless.
The all-out joint effort is helping to offset the shutdown of the Port of Iskenderun's LimakPort container terminal, which closed after the quake. The force of the earthquake toppled stacks of containers and cracked pavement; the disruption is severe enough that container lines are diverting vessels to other ports, like nearby Mersin. The quake also sparked a massive fire in the center of the terminal's container storage area, which was finally extinguished later in the week (below).
L'incendie au port d'Iskenderun éteint, après le séisme dévastateur, énorme incendie dans le port d'Iskenderun. #Turkey #Turquie #earthquake pic.twitter.com/6pMzDZeZZy

— Ezints (@ezints) February 10, 2023
Turklim, the association of Turkish port operators, said that all other ports and terminals in the region are operating normally, and they are working together on relief operations. LimakPort's ro/ro quays are already in use for aid delivery, and the area is dense in alternative port infrastructure: the Gulf of Iskenderun saw the highest concentration of investment in seaports in Turkey over the past two decades, according to Turklim, and has more than a dozen other options. Nearby Mersin, Mesbas and Ceyport can also provide capacity.
"From the first hours of the earthquake, Turklim has established a crisis and support desk,which included all member port operators in the region from Tasucu to Iskenderun, harbor masters and chambers of shipping in the region," said the association in a statement.
????????Turkey´s navy ship TCG SANCAKTAR arrived to Iskenderum port to provide medical and humanitarian aid.

El buque de la armada turca TCG SANCAKTAR llegó al puerto de Iskenderum para brindar ayuda médica y humanitaria pic.twitter.com/DLDcGzsOeh

— Ares, Information Service (@Aresinfoservice) February 9, 2023
#BREAKING | Ships to carry materials to the earthquake area set off from Istanbul and Izmir: There are 74 tow-trailers, 15 roll trailers, 34 cranes, 21 buckets, 35 trucks, 41 excavators, 11 semi-trailers and humanitarian aid.#TurkeyQuake #Turkey pic.twitter.com/cXOMYvexM0

— Paperus (@reportpaperus) February 8, 2023
Turkey's Association of International Forwarding and Logistics Service Providers (UTIKAD), International Transporters' Association (UND), Railway Transporter Association (DTD) and major ro/ro operators are involved in the aid logistics effort.
In addition, with support from local government, large Turkish fishing vessels are conducting a sealift operation to deliver food and water from Karatas to the small fishing port of Cevlik, near Turkey's far southern border with Syria. The route provides a direct lifeline into a relatively remote area, and 6-7 trips on this 40 nm route have already been made, according to Turklim.
"Many more ships from other countries carrying humanitarian aid are expected to use the ports in the region which are fully prepared," said Turklim. "Aid will continue to come to the region with more ro/ro and ship services starting from the coming days."