Trump Withdraws Sanctions on Two Chinese Freight Forwarders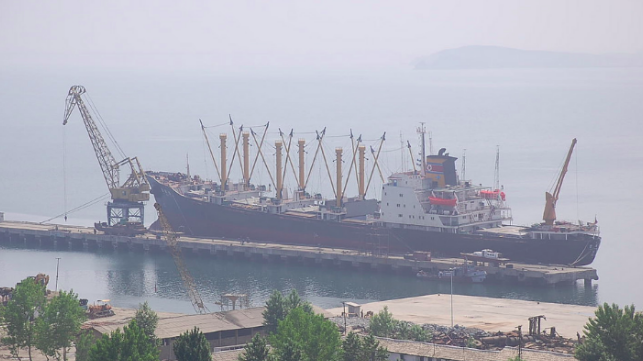 In a Twitter message Friday, President Donald Trump said that he had intervened to lift sanctions on two Chinese freight forwarders accused of trading illegally with North Korea.
"It was announced today by the U.S. Treasury that additional large scale Sanctions would be added to those already existing Sanctions on North Korea," the president wrote. "I have today ordered the withdrawal of those additional Sanctions!"
The U.S. Treasury did not announce any North Korea-related measures on Friday, but on Thursday its Office of Foreign Asset Control added two more companies to its sanctions blacklist. The entities affected by Treasury's action Thursday were Dalian Haibo International Freight and Liaoning Danxing International Forwarding, both located in Dalian, China.
Treasury alleged that in early 2018, Dalian Haibo shipped cargo from Dalian to a North Korean government buyer in Nampo, using North Korean-flagged vessels. Liaoning Danxing allegedly used deceptive practices to help EU-based North Korean operatives buy goods for the North Korean regime.
"Treasury will continue to enforce our sanctions, and we are making it explicitly clear that shipping companies employing deceptive tactics to mask illicit trade with North Korea expose themselves to great risk," said Treasury secretary Steven Mnuchin in a statement announcing the listing.
On Friday, Trump ordered the newly announced North Korea-related sanctions to be lifted. When asked for an explanation, White House spokesperson Sarah Huckabee Sanders said that "President Trump likes Chairman Kim, and he doesn't think these sanctions will be necessary," referring to North Korean supreme leader Kim Jong Un.
"For an administration that continues to surprise, this is another first - the president of the United States undercutting his own sanctions agency for imposing sanctions on Chinese actors supporting North Korea," said John E. Smith, former head of Treasury's Office of Foreign Assets Control, speaking to the New York Times. "It's a win for North Korea and China and a loss for U.S. credibility."
In a statement Friday morning, China's foreign ministry said that it would "launch an investigation according to [Chinese] domestic laws" into any possible violations that Dalian Haibo and Liaoning Danxing may have committed.
[Update: White House officials have since clarified that President Trump was mistaken in announcing that he was rolling back a policy decision that had already been published. Instead, his Twitter post referred to the cancellation of unspecified future sanctions on North Korea. Dalian Haibo and Liaoning Danxing will remain on OFAC's sanctions list.]
New guidance on sanctions compliance
In a related action, Treasury, along with the U.S. Department of State and the U.S. Coast Guard, has updated its comprehensive guide for maritime companies and regulators on how to spot sanctions-busting vessels in East Asia.
Advised steps include conducting thorough due diligence on ship-to-ship transfers in the East China Sea; carefully scrutinizing ships that turn off or manipulate their AIS; and, where relevant, ensuring that all parties in a shipping transaction understand their obligations under U.S. and U.N. sanctions. Shippers have incentives to comply, as they may be subject to U.S. civil fines of up to twice the value of the transaction or $300,000, whichever is greater, along with possible criminal prosecution. Vessel operators also risk vessel de-flagging, vessel detention and a global port ban.
Treasury also updated its list of vessels suspected of involvement in illicit ship-to-ship petroleum transfers and coal shipments to North Korea, below. (Not all of these vessels are formally designated as sanctions violators.)
Vessels suspected of involvement with ship-to-ship transfers: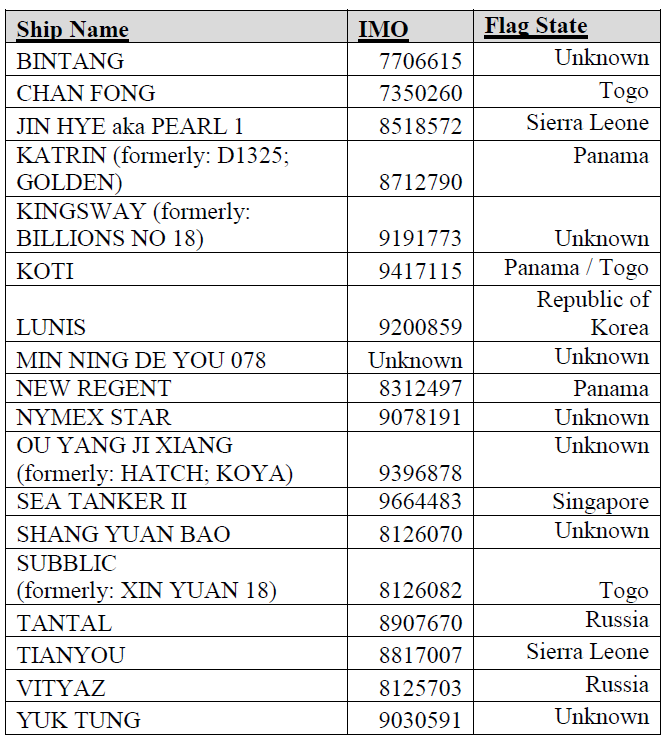 Vessels suspected of involvement with banned coal shipments: