Three Rescued After Fire Aboard French Fishing Vessel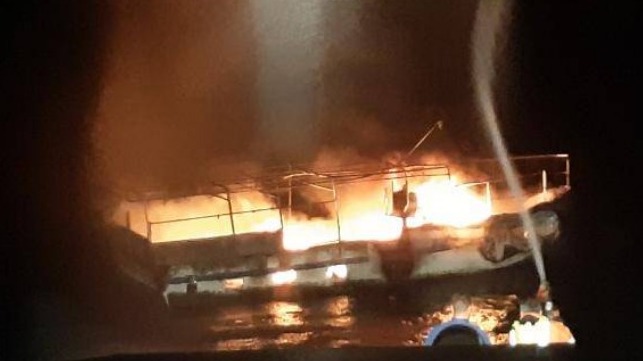 On Monday night, the fishing vessel Saint Jean Pierre caught fire in the English Channel traffic separation scheme about 26 nm off Boulogne-sur-Mer. Her crew were rescued, but the vessel sank within hours.
The blaze broke out aboard the Pierre at about 2230 hours on Monday. Shortly after they noticed the fire, the crew abandoned ship into a life raft, and they fired off two red signal flares. The flares attracted the attention of another fishing vessel, the Loïc II, and the good samaritan vessel safely rescued all three survivors from the Pierre.
According to local media, the skipper of the Loïc II is the father of the skipper of the Saint Jean Pierre. "My son did not answer [my calls], and we immediately warned the CROSS Gris-Nez and we went [to assist]," said Jean-Pierre Deparis, captain of the Loïc II, speaking to La Voix du Nord. Deparis said that the fire accelerated quickly out of control after the Pierre's crew abandoned ship.
Maritime rescue coordination center CROSS Gris-Nez engaged the customs patrol vessel Jacques Oudart Fourmentin and the response tug Abeille Languedoc to attempt to extinguish the fire aboard the Pierre. A French Navy helicopter provided aerial surveillance.
Despite the firefighting effort, the Pierre sank in the English zone of the Channel at about 0100 hours Tuesday morning.