Three Men on the Titanic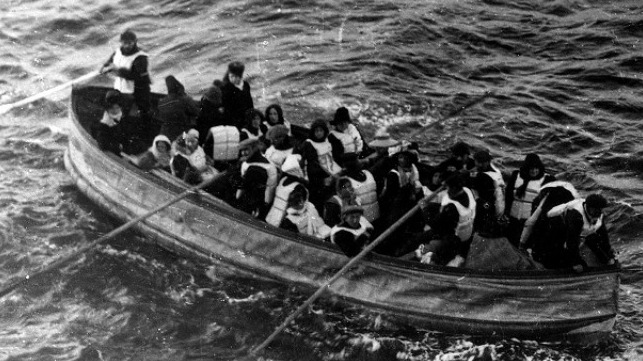 At 11.40pm on Sunday April 14, 1912, sailing at over 20 knots, the Titanic struck an iceberg. In less than 10 seconds her hull was ripped opened below the waterline for a length of 300 feet (91 meters).
The U.K. National Archives tells the tragic story of three of the crew:
The story of Frederick Fleet, Lookout
Frederick Fleet was born in Liverpool on October 15, 1887. He never knew his father, and his mother abandoned him when she ran away to Massachusetts with a boyfriend. Frederick never heard from his mother again but was raised by a series of foster families and distant relatives. In 1903, the 16-year-old went to sea, starting as a deck boy and working his way up to able seaman.
Before joining Titanic he sailed on the Oceanic as a lookout for over four years. As a seaman, Frederick earned five pounds per month plus an extra five shillings for lookout duty. It was as a lookout that he joined Titanic in April 1912.
Frederick served on Titanic's sister ship Olympic from 1920 to 1935 and signed on as ship's lookout and able seaman.
When his wife died shortly after Christmas 1964, he became depressed and committed suicide by hanging two weeks later in January 1965. People who knew him claimed that he suffered terrible guilt because he had lived while so many perished. Out of 2,227 passengers and crew on Titanic, he was one of only 706 who survived.
Frederick was buried in a pauper's grave at Hollybrook Cemetery, in Southampton. The grave went unmarked until 1993, when a headstone bearing an engraving of Titanic was erected through donations by the Titanic Historical Society.
The story of Frederick Woodford, Greaser
Frederick Ernest Woodford was born in 1871 at Norley Wood, on the southern edge of the New Forest. In 1902 he married Susan Anstey. They had four children: George, Arthur, Susan May and Annie Freda, but the two brothers died in infancy. At the time of the 1911 census, they had set up home at 14 Clovelly Road, Southampton.
Frederick signed Titanic's Crew List and Agreement as a Greaser, a merchant seaman who lubricates the ship's engines. In the engine department they worked three four-hour watches, repeated in the morning and afternoon. Everything was running to schedule on April 11, when Titanic docked in Queenstown to pick up further passengers. At Queenstown, Frederick sent a letter to his wife with instructions to pick up his pay from the White Star Line offices in Southampton.
Frederick was off duty when Titanic struck the iceberg and he was probably either in the Greaser's Mess on the shelter deck (C) or in his bunk on the lower deck (G). He made it into the water, but was unable to get into one of the few lifeboats available. It is believed he died of hypothermia in the freezing ocean.
His wife Susan was notified of Frederick's death in a letter from the White Star Line, telling her that her husband's body had been recovered by the Cable Steamer Mackay-Bennett and was buried at sea. The effect on Susan Woodford and her two young daughters was devastating. Not only did they lose a husband and father, but also the only wage earner. Despite money from the Titanic Fund, times were very difficult. Contracting illnesses, Susan and her eldest daughter were placed in convalescent homes. During the course of their stay, young Annie Freda died of diphtheria in 1914 and when her mother died of influenza in 1915, Susan May became an orphan at the age of eight. Fortunately, she was adopted by an aunt and from then on enjoyed a much happier childhood.
As it turned out, the letter from the White Star Line contained a very important mistake. Frederick Woodford had not been buried at sea after his recovery by the Mackay-Bennett, as had been believed, but his body was among those that had been taken to Halifax, Nova Scotia and interred in the Fairview Cemetery. His grave remained unmarked for many years until there was a dedication ceremony in the 1990s. Sadly, his daughter died in 1985 never knowing that there was a grave she could visit.
The story of Robert Hichens, Quartermaster
On the October 23, 1906 he married Florence Mortimore in Devon; his marriage certificate shows him as a 'master mariner'. On April 6, 1912 Robert signed up on Titanic as one of six quartermasters. He gave his home address as 43 St James Street, Southampton where he lived with his wife and two children.
On the night of April 14, 1912 Robert was at the ship's wheel when the warning came from the lookout that an iceberg had been spotted ahead of the ship. He was put in charge of lifeboat six, which was holding 28 other people. They left Titanic at 00.55.
He gave his testimony to the U.S. inquiry on April 24, 1912. After the inquiry closed Robert returned to England, arriving in Liverpool on May 4. Three days later he testified at the British inquiry where 492 questions were put to him.
During the First World War Robert served with the Army Service Corps. By 1919 he was working as a third officer on a small vessel named the Magpie. Towards the end of the 1920s Robert and his family moved to Devon, where Robert became engaged in boat charter after purchasing a motor vessel from Harry Henley. By the end of 1931 Robert's wife and children had left him and moved to Southampton.
Over the following year Robert unsuccessfully toured the country looking for work. It is believed that he became a heavy drinker, possibly brought on by his experiences on Titanic, bleak job prospects, lack of money and family problems. On his travels he bought a revolver for £5 and decided to kill Harry Henley.
Robert arrived in Torquay on November 12, 1933 and that evening became heavily intoxicated. After closing time he took a taxi to Harry Henley's house. Henley lived, but Hichens was jailed.
He was freed four years later in 1937, but died in 1940 aboard the cargo ship English Trader.