The Disputed Chagos Islands Have an Illegal Fishing Problem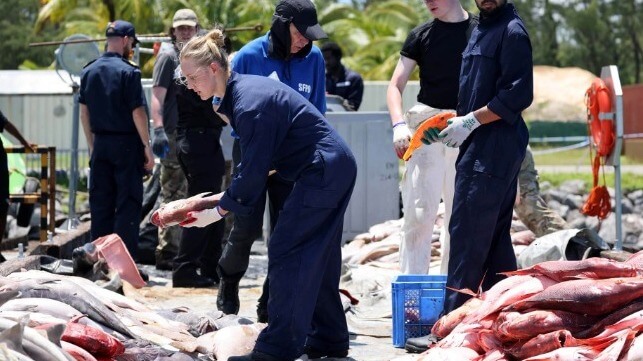 Despite an ongoing dispute with Mauritius over the ownership of the Chagos Islands, the British government is still the de facto administrator of the Indian Ocean archipelago for now, and it has a serious illegal-fishing problem to deal with.
The remote Chagos archipelago is known best for the UK-administered, U.S.-operated facility on Diego Garcia, a strategic airbase and naval station located some 1,000 nautical miles south of India's southernmost tip. Since 1814, the 60 atolls and islands in the chain have been under British administration, and the area has been known as the British Indian Ocean Territory (BIOT) since the 1960s. Mauritius also claims the area, citing pre-colonial ties, and under UK Prime Minister Rishi Sunak the two sides have entered in negotiations over the future of the archipelago.
In the meantime, the Royal Navy is helping the regional British administration to deal with an illegal fishing problem. The entire territory is within a marine protected area, but that hasn't deterred ambitious fishermen. The administration has a chartered offshore vessel, the Grampian Endurance, to patrol an area the size of Texas. The Royal Navy patrol ship HMS Tamar recently visited the area to lend a hand.
"Over the past two years there has been a major increase in illegal fishing," said George Balcombe, Strategic Environmental Officer for the BIOT Administration. "Researchers who have been working in the territory for years have observed a significant decline in several keystone species, notably sharks. The levels of fishing are unprecedented."
While in port, Tamar's crew helped offload the catch of a trawler that Grampian Endurance had caught fishing illegally in restricted waters. The authorities confiscated sting rays, sharks and other protected species from the vessel's nets, and the incident earned the fishermen a heavy financial penalty.
Before departing, Tamar's crew donned civvies and carried out a beach cleanup on a remote stretch of white-sand paradise. The area is used by a critically-endangered hawksbill turtle population for nesting, and the removal of plastic trash and other waste from the beaches helped support conservation efforts, according to Royal Navy reservist and ocean plastics researcher Dr. Imogen Napper.