Ten Ship Order from Iran for Hyundai Heavy Industries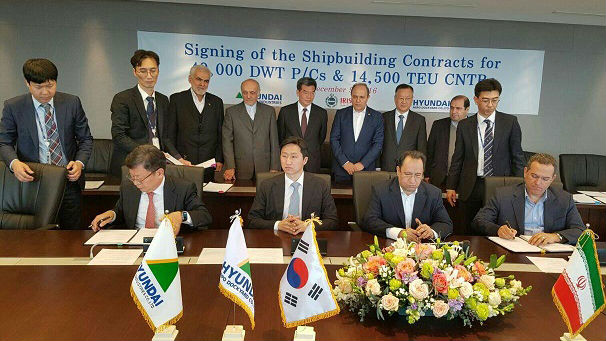 South Korean shipbuilder Hyundai Heavy Industries has received a $650 million order to build 10 ships for Iran's state-owned shipping company.
The company will build 14,500 TEU container ships and 49,000 DWT product/chemical tankers for Islamic Republic of Iran Shipping Lines, with delivery starting in 2018.
The container ships will be 366 meters (1,200 feet) long and 48.2 meters (158 feet) wide, and the tankers, to be built at Hyunday Mipo Dockyard, will be 183 meters (600 feet) long and 32.2 meters (106 feet) wide. All vessels will meet the latest IMO Tier III requirements for NOx emissions. The number of each type of ship was not disclosed.
The deal was signed on Friday and was the first shipbuilding order by the Iranian firm since the lifting of international sanctions. Hyundai Heavy Industries plans to pursue a technical cooperation with an Iranian shipbuilder to aid in the development of Iran's shipbuilding industry.
South Korean shipyards have been struggling with declining orders since the 2008 financial crisis. Hyundai Heavy Industries has sold non-core assets and cut job as a result.
Earlier this month, Hyundai Heavy Industries announced the inauguration of the King Salman Global Maritime Industries Complex in Saudi Arabia. Upon completion, the $4.3 billion project aiming to build a 4.96 million square meter maritime complex will be able to build commercial ships and offshore facilities and also to provide ship repair services by 2021.