Teekay Tanker Carries Out Back-to-Back Rescues in Central Med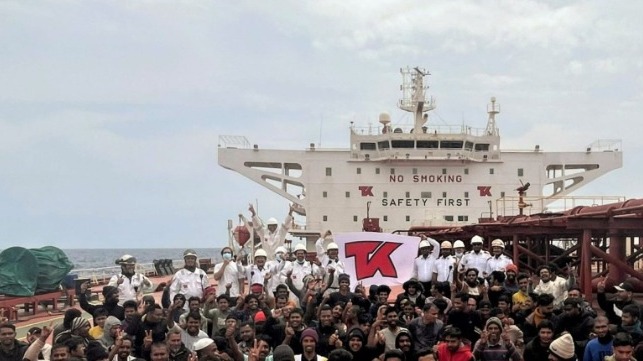 Earlier this month, a Teekay tanker conducted two back-to-back migrant rescues in the Mediterranean, then transited to an Italian port - a sequence which NGO rescue vessels are not permitted to follow.
On May 8, the tanker Copper Spirit was under way westbound in the Mediterranean, bound for Italy. The ship received instructions from the Italian MRCC to divert and assist a boat in distress.
In the dark of night, Copper Spirit arrived on scene, and the crew rescued all 35 people aboard the craft.
Copper Spirit then received instruction to proceed north and rescue a second vessel in distress. She successfully rescued the occupants, then headed northwards to Catania with 107 survivors on board. She arrived a few miles off the port on May 9 and departed without incident, bound for the refinery at Milazzo.
"Although it is part of international law, saving lives at sea is also a moral obligation and a strong personal belief of all seafarers across the globe," said Teekay in a statement. "We are truly glad to have contributed to the safety of 107 individuals. After all, it is our duty."
Legal challenges for back-to-back rescues
NGO rescue vessels may face fines or detention in Italy for performing the same series of actions. Italian law prohibits migrant rescue ships from making two or more rescues in the same voyage.
A new decree law on rescue-vessel operation was created by the right-wing government of Prime Minister Giorgia Meloni earlier this year. It requires rescue vessels to head to port immediately after each evolution, foregoing additional rescues even if the ship is in the vicinity of people in distress. If a rescue vessel is found to be in violation of this law, the master may be subject to a fine of more than $50,000, and the ship can be detained for up to two months.
In the past, NGO SAR vessels remained in the transit zone for several days in order to carry out multiple rescue operations. As a practical matter, this has changed. "As soon as we finish the first rescue, we are given a port for disembarkation and told to sail to it at maximum speed without stopping again," explained Alessandro Porro, president of rescue organization SOS Méditerranée, in an interview in March.
The law has been condemned by the UN, which has expressed concern that it will hinder the provision of life-saving assistance by SAR organizations in the central Mediterranean, resulting in more deaths at sea.