South Korea to Join U.S.-Led Patrols in Strait of Hormuz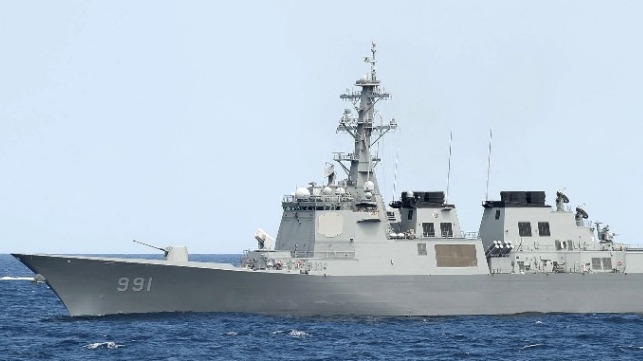 The South Korean government has become the first to publicly sign on to an American plan for guarding merchant shipping in the Strait of Hormuz. A Korean destroyer will soon join U.S. Navy assets in the region, according to South Korean outlet Maekyung.
Korea's navy already has a forward-deployed asset nearby, its Cheonghae anti-piracy unit, which is presently operating off Somalia. The unit operates from aboard a destroyer, which periodically rotates out.
"It is obvious that we have to protect our ships passing through the Strait of Hormuz, isn't it?" said defense ministry spokesman Ro Jae-Cheon at a briefing on Monday. "We're considering various possibilities."
Britain has launched its own naval peacekeeping operation in the region after the seizure of the UK-flagged tanker Stena Impero on July 19. It has proposed a joint EU-led "observer" mission tasked with enhancing maritime security, without joining the American effort, which is seen within the EU as part of U.S. "maximum pressure" campaign of sanctions on Iran. The UK and the rest of the EU27 still seek to keep Iran within the bounds of the so-called "nuclear deal," or Joint Comprehensive Plan of Action, from which the United States has withdrawn.
No trade for tanker's release
On Monday, Iran ruled out the possibility of a "swap" for the simultaneous release of two seized tankers - the British-held Grace 1 and the Iranian-held Stena Impero. "Impossible to advance a quid pro quo or barter exchange of detained UK and Iranian ships," said Iranian envoy to London Hamid Baedinejad in a social media post.
His statement came as the Islamic Revolutionary Guard Corps released a new recording that purports to contain an exchange between Iranian forces and the Royal Navy frigate HMS Montrose at the time of the Stena Impero's seizure. Montrose was in the region but too far away to directly intervene, according to the UK.
"This is British warship Foxtrot 236: I am in vicinity of an internationally recognized strait with a merchant vessel in my vicinity conducting transit passage," an officer aboard Montrose says over VHF.
"British warship Foxtrot 236, this is Sepah navy patrol boat: you are required not to interfere in this issue," an IRGC officer responds. "Don't put your life in danger."
In an interview Monday, newly-appointed UK foreign secretary Dominic Raab indicated that Britain expects Iran to release the Impero and cease this form of interference with foreign shipping. "If the Iranians want to come of the dark and be accepted as a responsible member of the international community they need to adhere to rules-based system of the international community," he said. "You cannot go about detaining unlawfully foreign vessels."