Somalia Signs Jeddah Amendment on Illicit Maritime Activity
Somalia has become the 14th signatory to the Jeddah Amendment to the Djibouti Code of Conduct – the instrument developed and adopted by countries in the Western Indian Ocean and Gulf of Aden that has been a key factor in repressing piracy and armed robbery against ships operating in that region.
The Amendment significantly broadened the scope of the Djibouti Code when it was adopted at a high-level meeting in Jeddah, Saudi Arabia in January 2017. It covers measures for suppressing a range of illicit activities, including piracy, arms trafficking, trafficking in narcotics, illegal trade in wildlife, illegal oil bunkering, crude oil theft, human trafficking, human smuggling and illegal dumping of toxic waste.
H.E. Mariam Aweis, Minister of Marine Transport and Ports, Federal Government of Somalia, deposited the instrument with IMO Secretary-General Kitack Lim at IMO Headquarters in London on December 1.
In a resolution adopted last month, the 15-member U.N. Security Council urged Somali authorities to continue passing comprehensive anti-piracy laws, to establish security forces with clear roles and jurisdictions to enforce the laws and to strengthen the capacity of Somali courts to investigate and prosecute pirates. The Security Council also called on U.N. member states to adopt legislation to facilitate prosecution of suspected pirates off the coast of Somalia.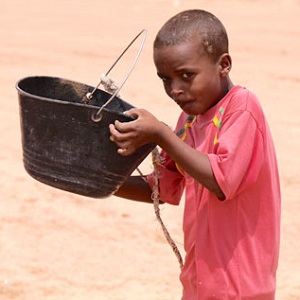 Many development and security experts agree that until the underlying issues wracking Somalia, such as poverty, instability, drought and famine are solved, piracy may continue. The nation's current humanitarian crisis, which was triggered by the failure of consecutive rainy seasons, has led to massive displacement, disease outbreaks and malnutrition, with 6.2 million people - half of the country's population – now in need of humanitarian assistance. Some four million of them are children.
UNICEF estimates that 232,000 children have or will suffer life threatening severe acute malnutrition over the next year. UNICEF, with funding from the governments of China, Japan and Sweden, has been helping to secure clean water supplies and is also helping with education initiatives for children. Puntland State education statistics show that approximately 19.5 percent primary school children in Puntland have dropped out of school due to drought, with the Bari District where the hijacked Aris 13 oil tanker was directed earlier this year, showing particularly high dropped out rates (30.1 percent for both boys and girls).

Credit UNICEF
Other signatories to the Jeddah Amendment are Comoros, Djibouti, Ethiopia, Jordan, Kenya, Madagascar, Maldives, Mozambique, Saudi Arabia, Seychelles, Somalia, United Arab Emirates, Tanzania and Yemen.