Shipping Containers House the Homeless of Bristol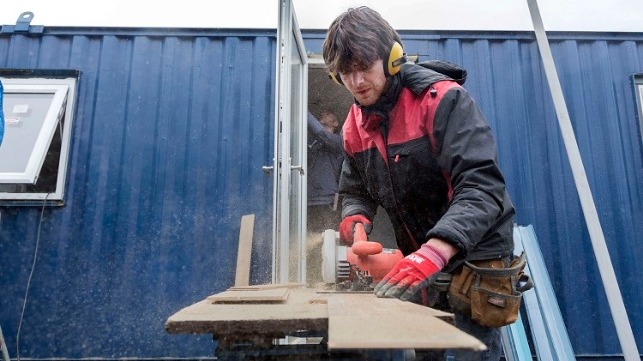 Old shipping containers are being turned into living spaces in the U.K. as part of a project by the charity Help Bristol's Homeless.
The social collective notes that more and more people sleeping rough on the street, tented groups springing up and more people are sofa surfing. This inspired army veteran and restaurateur Jasper Thompson to found Help Bristol's Homeless in 2017. "The most important thing is that the homeless people who are here are the ones leading the project. It's about everyone working together, learning trades and people pulling each other up."
Thompson was born in Jamaica but has lived in the U.K. for most of his adult life. In early 2017, he and his wife started handing out hot food to the homeless on a Sunday morning in the center of Bristol, they were soon joined by many supportive volunteers. But Thompson felt there was more he could do.
Through contacts, he was offered an old mobile home and a site to place it on. On the site was a shipping container which inspired him to start converting them into self-contained micro flats. Since then Help Bristol's Homeless has converted 11 micro flats as well as a double decker bus.
The charity is raising funds to complete the groundwork on a new Spring Street site given by Bristol City Council for the next five years.
The charity already has a wide base of supporters including Ecotricity, Burgess Salmon, OVO, Oregon 3, Balfour Beatty, Barratt Homes and Cleverley Builders. A JustGiving page has been set up to raise £50,000 ($65,000).