Sembcorp Marine Names First LNG Hybrid Tug in Singapore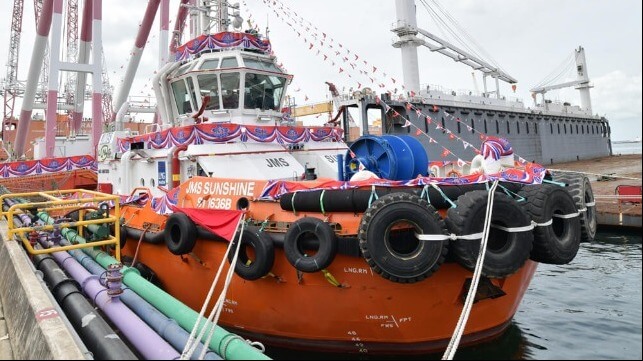 Sembcorp Marine celebrated the naming of its first of a series of LNG hybrid tugs specially designed for domestic service in Singapore. The Singapore-flagged vessel was christened JMS Sunshine on January 18 as part of an effort to continue to reduce emissions in and around the port.
The vessel is the first of its kind for operations in Singapore using a pure LNG engine and is supported by an innovative battery power system. According to Sembcorp Marine, the energy storage system is based on a Lithium-ion battery. This system allows emission-free operation of the tug during idling and low-speed transit. It is capable of taking over the energy needs if a spike in power is warranted, and comes equipped with a "take-me-home" reserve capacity to ensure the safe return of the tug in the event of engine failure.
The tug, which was designed by LMG Marine, a subsidiary of Sembcorp Marine, is built with maximum operability, safety and maneuverability, reliability, efficient fuel consumption, and comfort under all environmental conditions. It also has low lifecycle costs and leaves a minimal environmental footprint. Sembcorp Marine commissioned the design and build of the world's first LNG hybrid tug in 2018.
"Emission regulations on marine vessels are getting more stringent every year," said Simon Kuik, Sembcorp Marine Head of R&D. "To stay ahead of the curve, we are investing selectively in innovative design solutions. Sembcorp Marine has consequently aligned its strategic position to develop a suite of sustainable product solutions specifically tailored to address the shift towards a low carbon economy."
When delivered, JMS Sunshine will be operated by Jurong Marine Services, a wholly-owned subsidiary of Sembcorp Marine and a licensed operator of the Maritime and Port Authority of Singapore. Plans call for the tug to be deployed in Sembcorp Marine yards for ship maneuvering, mooring and unmooring operations. It can also be deployed by ship operators to escort vessels within Singapore port limits.
"We are thrilled to be part of the team bringing green solutions to Singapore waters. JMS Sunshine is the first LNG hybrid tug that we have worked on, and we look forward to conversions of the rest of our tug fleet into LNG hybrid tugs to further greenify our operations," said Gordon Ng, JMS Assistant General Manager.
The tug is classed by ABS, Sembcorp Marine said during the naming ceremony that it plans to build a fleet of tugs to progressively replace its existing diesel-powered fleet. The group's goal is to cut its greenhouse gas emissions by at least 50 percent by 2050 compared to 2008.