Seafarer Happiness Shows Steady Upward Trend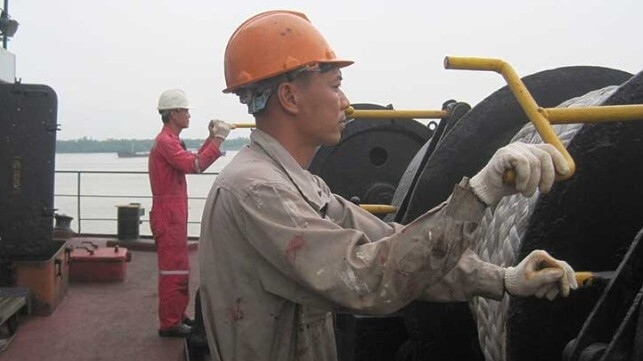 After prolonged periods of despair occasioned by the COVID-19 pandemic, 2022 marked a year of recovery for seafarer welfare with happiness levels rising across the board to new highs according to the latest Seafarers Happiness Index.
The Mission to Seafarers index, which is the commercial shipping industry's barometer of sentiment at sea, shows that seafarer happiness has sustained an upward trend throughout the year, reaching an average of 7.69 on a scale of 10 in the last quarter of last year, up from 7.3 in the third quarter.
The rebound in sentiment is being described as something of a high-water mark considering that at the beginning of the year seafarers' happiness, job satisfaction and morale was at the lowest level ever recorded with an overall average of 5.85, reflecting the negative impact of the COVID pandemic on the welfare of seafarers.
Other issues such as conflict and contracts also contributed to the low morale and deflated mood, with many seafarers feeling that their welfare was not being properly addressed and that their work conditions were becoming increasingly difficult.
By the last quarter of the year, seafarers were recording a change of fortunes in their welfare with even historically problematic areas such as shore leave and access to welfare ashore being on a recovery trajectory. During the quarter, crew members continued to express their relief at the return of freedom of movement as well as their increased sense of certainty and stability.
The index shows that the only area in which there was a decline in satisfaction was connectivity, with quality and cost continuing to impact social life at sea.
"We were pleased and relieved to see increased happiness levels onboard throughout the year, and our reports show significant positive progress. While there remain complexities and challenges in the industry, The Mission to Seafarers continues to highlight the importance of fair treatment, reasonable pay, compassion and understanding in fostering a positive outlook for seafarers," said Ben Bailey, The Mission to Seafarers' Director of Program.
He noted that complex issues still need to be addressed, like abandonment, non-payment or delayed payment of wages and arbitrary decisions about immigration.
The index shows that seafarers sentiments at sea started to take a positive trajectory during the second quarter of last year rising from 5.85 to 7.21, an encouraging development that suggested the worst period of despair had finally come to an end.
The third quarter saw further improvement with the overall average climbing to 7.3, something that was attributed to improvements in shore leave, access to welfare facilities and initiatives, as well as companies investing in their people on board that all contributed in making life better at sea.
The Mission to Seafarers believes that despite the positive progress, there are still persistent issues that need to be addressed including workload, mental health impacts and the stresses of a difficult job characterized by too few people aboard ships.