Sea Shepherd Offers the Faroe Islands One Million Euros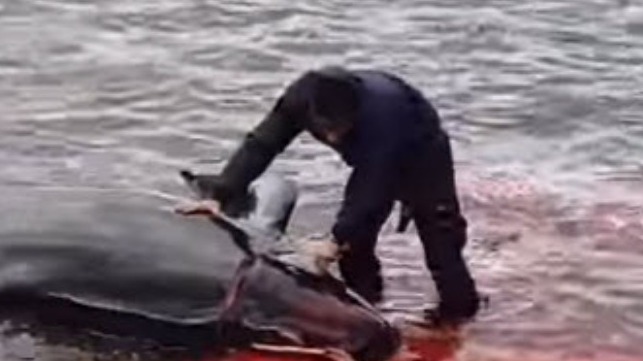 Sea Shepherd UK has offered the Faroe Islands one million Euros ($1.17 million) spread over the next 10 years if it stops its whaling activities, locally called the grindadráp.
Over the last 10 years a total of 7,744 small cetaceans of five different species (58,897 cetaceans of at least six species over the last 50 years) have been killed in the Faroe Islands' grindadráp hunts, says Sea Shepherd.
The one million Euros will be payable over 10 installments at the end of every calendar year for 10 years with the first installment of 100,000 Euros on January 1, 2020. Each payment will only be made if no cetaceans are deliberately hunted and killed in the Faroe Islands throughout the preceding 12 months. The offer is made on the condition that the money is spent in the Faroe Islands on the following projects:
1. Promoting eco-friendly tourism to the Faroe Islands
2. Establishing cooperative whale/dolphin watching businesses in small communities around the Faroe Islands
3. Provision of teaching materials or specialist lectures to Faroese children on marine conservation
4. Training to Faroese citizens in marine mammal rescue techniques so that stranded cetaceans can be saved whenever possible
The offer was made directly to the government of the Faroe Islands on September 25.
Sea Shepherd says that the cetaceans can suffer long, painful deaths, but Hans J. Hermansen, past president and board member for 22 years for the Faroese Pilot Whaler's Association, has said in the past that the killing method used in grindadráps is humane. "It is every hunter's duty, honor and pride to kill any animal as quickly and humanely as possible."
Sea Shepherd has released video footage of this year's grindadráp:
WARNING - THE VIDEOS BELOW CONTAIN GRAPHIC FOOTAGE OF ANIMALS BEING KILLED THAT SOME VIEWERS MIGHT FIND DISTURBING
Atlantic White Sided Dolphins being killed during a grindadráp hunt of a mixed pod of 80+ Pilot Whales and 13+ dolphins.
The killing of one of the last remaining long finned Pilot Whales from a pod of over 80 which along with 13+ Atlantic White Sided Dolphins were killed on the rocky beach at Hvannasund in the Faroe Islands on the August 16, 2018.
Grindadráp hunt of pilot whales filmed by Sea Shepherd UK covert crew at Hvannasund in the Faroe Islands on the August 16, 2018.