Scramble to Ensure Public Safety after Houston Spill
U.S. Federal, state and local agencies are working to ensure public safety as they respond to a toxic spill at Morgan's Point on the Houston Ship Channel after a collision between a bulker and a tanker carrying methyl tertiary-butyl ether (MTBE).
The Carla Maersk, a 45,000dwt chemical tanker, and the Conti Peridot, a 57,000dwt bulk carrier, collided on Monday in heavy fog, causing MTBE to leak from one of Carla Maersk's cargo holds.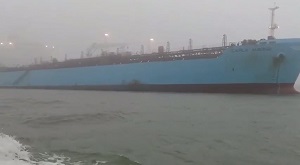 The vessels remained in place on Tuesday as the U.S. Coast Guard and the Army Corps of Engineers worked with salvage companies to move them and retrieve an anchor lost from the bulk carrier, the U.S. Coast Guard reports.
The chemical tanker was carrying approximately 216,000 barrels of MTBE prior to the collision. It is not clear how much of the flammable, volatile, colorless liquid has been spilt, but the Coast Guard expects it will take several days to clean up after the accident.
"We have to proceed step by step, making sure the flammability, the toxicity of this cargo is absolutely safe," said U.S. Coast Guard Captain Brian Penoyer, commander of the Houston-Galveston Coast Guard District. "We need to recognize this is an enormously complex salvage operation. ... We are driven by factors on the ground, not by a desired time frame. We all live here. We want to get back to business as usual. But we have to make sure people are safe."
MTBE can be dangerous to people if inhaled in high doses. There are additional concerns because of its limited solubility in water. Air quality monitoring at nearby Barbours Cut Terminal has determined that fumes are present, but they are below toxic levels.
The Texas Parks and Wildlife Department is working to determine any impact the spill might have on wildlife by testing water samples.
Shipping Traffic Affected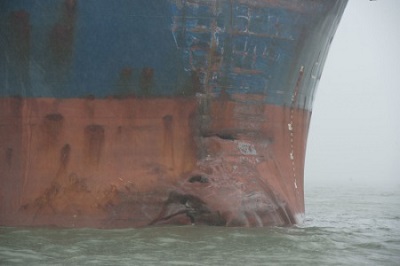 Marine traffic in the Houston Ship Channel is still being affected. Thirty-six ships, carrying all kinds of cargo, were waiting to get in while 28 waited to get out on Tuesday morning, said J.J. Plunkett, port agent for the Houston Pilots.
On Tuesday, two tankers carrying Mexican crude were still waiting after being held up last week when fog forced a four-day shutdown of the ship channel, according to ClipperData, which tracks crude movements.
Three other tankers carrying Saudi crude also were held up by last week's fog. By Tuesday one had been fully lightered and was leaving; a second was waiting after having been lightered twice; and a third was offloading its remaining 1 million barrels at the Louisiana Offshore Oil Port in New Orleans after 500,000 barrels were lightered on Monday, ClipperData said.
Also outside the channel were two full Very Large Crude Carriers (VLCCs), one with Saudi crude, the other with Kuwaiti oil. There was also a Saudi vessel awaiting lightering of 500,000 barrels of Kuwaiti crude. The Saudi vessel discharged 1.5 million barrels at the LOOP on Friday.
Crude traders said the disruption could lead to a drawdown of U.S. Gulf Coast crude stocks and slow record builds. But such blips typically right themselves when the channel reopens and backlogs in traffic clear up.
Traffic in and out of Galveston, Texas City and Bayport on the south end of the ship channel moved as usual on Tuesday. The area where the collision occurred remained closed near Morgan's Point, just south of Baytown.
This is the second collision to have occurred in the channel in the last few days. Last Thursday, a tanker carrying lube oil and a container ship collided, however there were no injuries or pollution reported.