Saudi Coalition Halts Hodeidah Offensive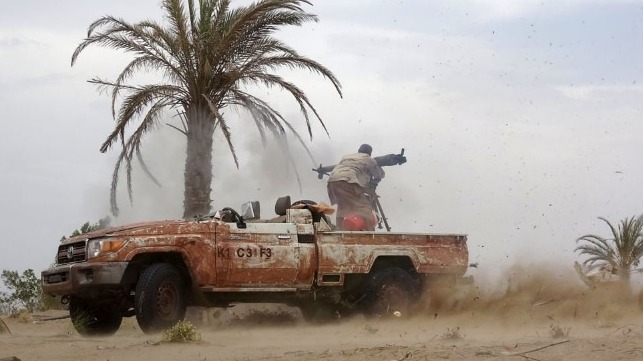 The Saudi-led coalition backing the Yemeni government in Yemen's civil war has ordered a temporary halt in its offensive to retake the key port city of Hodeidah. The move comes amidst growing pressure on the government of Saudi Arabia to reach a truce with Houthi rebels, who have controlled Hodeidah and much of Yemen's Red Sea Coast since 2014.
Last week, the Trump administration ceased providing the U.S. military's aerial refueling services for Royal Saudi Air Force missions over Yemen. Saudi forces have been repeatedly criticized for allegedly indiscriminate aerial bombardment of civilian targets, and the administration faced pressure from Congress to pull back on its logistical support for the campaign. Observers in Yemen have noted a sharp dropoff in bombing sorties in Hodeidah over the past several days, except for sole airstrike on a bus, which allegedly killed seven civilians.
The pressure to halt U.S. involvement in the conflict has intensified since early October, when a team of Saudi agents killed journalist Jamal Khashoggi inside the Saudi consulate in Istanbul. Turkey's government has slowly leaked details of the killing to the press, forcing the Saudi government to concede that Khashoggi's execution was authorized and carried out by Saudi intelligence officials.
The Khashoggi affair has prompted renewed calls in Congress for the U.S. to halt military assistance for the Saudi-backed campaign in Yemen. Under two successive administrations, the U.S. has allowed Saudi Arabia to buy billions of dollars' worth of military supplies with useful applications in the Yemeni conflict, including missiles, tanks, and essential spare parts and maintenance services for American-made vehicles and aircraft. While a number of senators and representatives have expressed concern about the sales - notably Senator Rand Paul (R-KY) and Rep. Ro Khanna (D-CA) - the House and Senate have so far declined measures to limit military assistance to the coalition.
A ceasefire would be welcome news for aid groups, which rely heavily on Hodeidah's port to handle shipments of food and medical supplies into Yemen. The UN has repeatedly warned that fighting near the port could endanger the flow of aid for millions of Yemenis. An estimated eight million people in Yemen are considered food insecure, and the number may soon rise by an additional 3.5 million.
The halt on the Hodeidah offensive may be a prelude to peace talks. UN special envoy for Yemen Martin Griffiths and UK foreign secretary Jeremy Hunt have been engaged in a sustained effort to bring the parties together for renewed negotiations on a ceasefire; a previous effort scheduled for September failed when the Houthi delegation did not arrive.