Saudi Arabia and UAE Suspend Trade with Qatar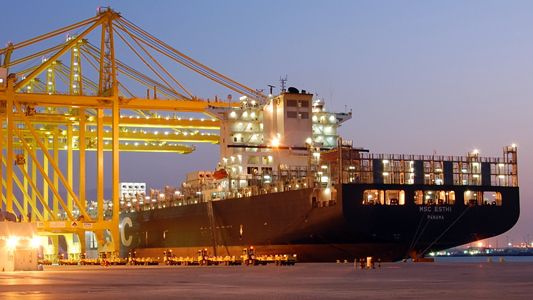 On Monday, maritime authorities in Saudi Arabia, the UAE, Yemen, Egypt and Bahrain indefinitely suspended all shipping to and from Qatar. The Bahraini and Saudi governments went further and banned Qatari vessels from transiting through their territorial waters, a restriction that may be inconsistent with legal protections for the "innocent passage" of shipping.
The shipping embargo may have a particularly severe effect on Qatar's economy because it reinforces the closure of its land border with Saudi Arabia, Qatar's sole connection to the rest of the Arabian peninsula and its biggest logistics link for food shipments. Social media reports suggest that Qatari consumers have rushed to supermarkets to stock up amidst fears of a supply shortage.
The suspension of seagoing trade is one component of a range of diplomatic and economic sanctions that a Saudi-led group of nations has enacted to punish Qatar for alleged support of Hezbollah and Hamas. The Sunni Arab monarchies dislike Doha's friendly relations with these Shiite militant groups, which are linked to Iran; further, the Saudi government objects to the editorial stance of Qatari-funded TV channel Al Jazeera, which it perceives as a driving force behind Arab democratic movements and a potential threat to hereditary rule.
In a press release Monday, the official Saudi Press Agency announced that the government had closed Al Jazeera's Saudi offices and withdrawn the channel's accreditation. "The move came after Al-Jazeera has promoted plots of terrorist groups, supported the Houthi militias in Yemen, and tried to break the Saudi internal ranks by inciting them to leave the country and harm the sovereignty of the Kingdom of Saudi Arabia," the agency said.
It was not immediately clear whether the air travel and shipping ban would have any effect on American military operations. Qatar hosts Al Udeid Air Base, the forward headquarters of Central Command and the largest USAF facility in the Middle East. The Air Force also has large airfields in the UAE and Bahrain, and the U.S. Navy's Fifth Fleet is based at NSA Bahrain, raising questions about the ban's effects on shipments between installations on either side of the dispute. On Monday morning, U.S. secretary of state Rex Tillerson told reporters at a press conference in Sydney that the breakdown in relations would not slow down the fight on Islamic State. "I do not expect that this will have any significant impact, if any impact at all, on the unified – the unified – fight against terrorism in the region or globally," he said.