Samsung Wins Another Mega-Container Ship Order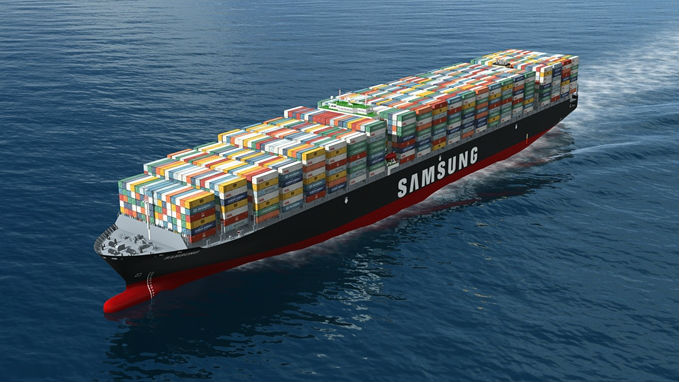 One month after setting it, Samsung Heavy Industries has renewed its hold on the record for the world's largest container ship order by receiving an order for 21,100TEU-class container ships.
The company announced that it had received an order for six units of 21,100TEU-class ultra-large container ships from OOCL (Hong Kong) on April 1. The order is valued at about $950 million.
This renewed the record it had set just one month earlier, when it received orders for four units of 20,100TEU-class container ships from MOL of Japan on March 2, 2015.
The company has fortified its leadership in the market by receiving orders for ten units out of 12 units of 20,000TEU+ container ships placed worldwide. This contract includes options for six units, so it is likely that the company will receive additional related orders, it said in a statement.
Samsung Heavy Industries highlights its research capabilities, infrastructure and eco technologies as being important to winning the orders. The company has continuously developed ships optimized for ship operation plans as well as large-sized container ships, using a range of testing facilities including the towing tank and the cavitation tunnel at Daedeok Ship Research Center.
The newly ordered ships are 400m long and 58.8m wide, a similar specification to the 20,100TEU-class ships previously ordered. However, the newly ordered ones can load 1,000 more 20-feet containers, as they accommodate one more layer of containers.
The newly ordered ships will also be equipped with a number of energy-saving systems, including propellers, rudder bulbs and stators developed by Samsung Heavy Industries. The ships will be delivered by November 2017.
A Fleet of Mega Ships
Maersk, MSC, CMA CGM, China Shipping Container Line, United Arab Shipping Co and Evergreen have, or will soon have, ships with over 18,000 TEU capacity.
Drewry reports that the total capacity of ships 18,000 TEU and above, either active or on order, has now passed the one million TEU mark.
The 18,000 TEU-plus "club" was formed by Maersk when it ordered the first series of 10 Triple E class ships in February 2011, following this in June of the same year with an order for 10 more.
Two years later, CSCL, MSC and UASC were also ordering mega vessels, followed by Evergreen.
Most recently, deliveries include MSC Oliver, the second of the MSC's 19,224 TEU series of vessels, which was inaugurated at the end of last month at DSME's shipyard in Busan, South Korea, just two months after the delivery of MSC Oscar.
MSC Oliver is the second in its class, and along with MSC Oscar, it is part of the 20 mega-ships over 19,000 TEU which MSC has scheduled for delivery by the end of the year.