Samsung Heavy Brings in Kongsberg to Work on Autonomous Ship Program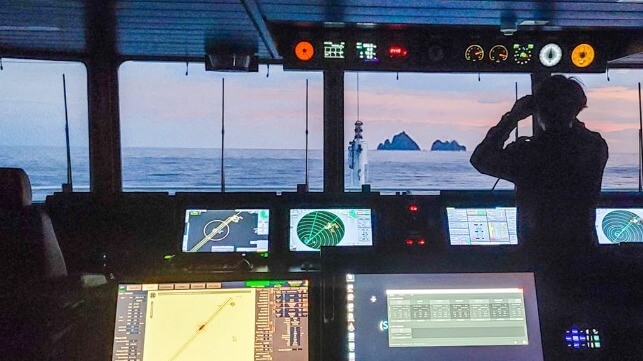 Samsung Heavy Industries has brought in Kongsberg Maritime to work on the Korean shipbuilder's ongoing autonomous ship technology program, expanding on earlier in-house efforts to design self-navigating vessels.
The new joint project agreement is focused on developing a design for a next-gen autonomous LNG carrier with a capacity of 174,000 cubic meters, the industry-standard size. SHI will handle systems integration and overall design, while Kongsberg will serve as a "strategic partner" responsible for providing integrated solution designs. Kongsberg has considerable experience in developing and fielding autonomous and remote navigation systems, including the technology behind the groundbreaking all-electric container feeder Yara Birkeland, which is currently undergoing testing in Norway.
"We will focus on technology development to ensure that autonomous ships become the optimal solution for shipping companies to reduce operating costs and operational risks," said Jang Hae-ki, head of technology development at Samsung Heavy.
Samsung has already tested its own in-house autonomous navigation system, called SAS, in a brief voyage in domestic waters. In November, it fitted a 9,000-ton university training vessel with the system and sailed over 500 nautical miles through congested waters. The vessel Segye-ro used SAS to safely avoid 29 collision risk situations where it encountered other ships, according to SHI. Samsung's system uses radar, AIS and camera imagery to monitor 360 degrees around the vessel for collision avoidance.
"The successful demonstration is a meaningful achievement that confirms SAS's performance and stability of navigation in complex maritime situations," said Kim Hyun-joe, head of SHI's ship and marine research center, in a statement in November. "As a first mover of technology, SHI will fulfil its role and responsibility to establish safety laws and systems along with technological innovation."
For Korea's shipbuilders, the race is on to build autonomous vessels with a high level of safety and efficiency. Rival DSME tested a small autonomous boat in November, and last June, Hyundai Heavy Industries tested its own system aboard an LNG carrier in what it believes to be the industry's first transoceanic autonomous voyage.